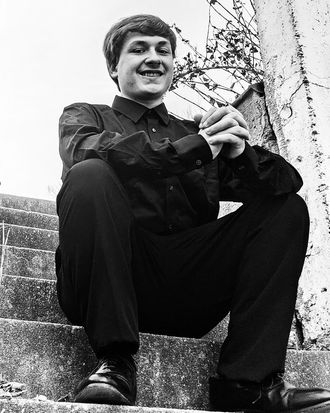 Aaron Coleman.
Photo: Aaron Coleman for Kansas
An adolescent accused of revenge porn, among other brutal behaviors toward women, is headed to the Kansas State Legislature. In Tuesday's general election, now-20-year-old Aaron Coleman won his seat in the state's House of Representatives, despite admitting to relatively recent incidents including (but not limited to) bullying, extortion, and threats of physical violence. He ran unopposed, but still.
Coleman narrowly beat his opponent — incumbent Establishment Democrat Stan Frownfelter — in the state's August primary. Shortly thereafter, a number of women who'd gone to middle school with the young progressive accused him of abuse. One of his former classmates said Coleman's verbal harassment was so severe she attempted suicide; another said that when she was 13, he tried to blackmail her with a nude photo he'd gotten ahold of, then "sent it to everyone [she] knew" when she refused to share more.
Admitting to the allegations, Coleman told the Kansas City Star: "I made serious mistakes in middle school and I deeply regret and apologize for them. I've grown up a great deal since then." Given that he was just 19 at the time of the primary, however, middle school was not so far in Coleman's rearview. He looked poised to drop out, going so far as to announce his impending withdrawal from the race, but changed his mind within two days. "I can never justify what I did to those women, and I do apologize to them from a place of remorse and shame, but words are no longer an acceptable response today," he said in a statement. "I think, that with more self-respect, I would have been a better person to those women in middle school."
Unfortunately, it appears Coleman's behavior may have continued into high school and beyond. The Kansas City Star reported in October that Coleman was arrested and charged for threatening to shoot a girl at another high school in 2015, when he was 14 years old. Coleman told the Star that he considered it "insane to use someone's juvenile record to distract from the fact Republicans and Democrats are engaging in full on class warfare."
But again, Coleman was a juvenile up until very recently, and even as an adult, does not seem to have entirely curbed these kinds of violent impulses. A woman who started dating Coleman in November 2019 told the Intercept that, late last year, he flew into a rage when she joked about breaking up with him, slapping her and trying to choke her. According to text messages she provided to the Intercept, Coleman subsequently tried to convince her that the assault never happened and eventually encouraged her to kill herself. Coleman subsequently admitted to being "abusive" toward his ex, but he denied throttling her.
None of these revelations prompted Coleman to drop his election bid, and a write-in campaign only delivered 2,013 votes to the candidate's 3,496. Meaning that, as Jezebel's Shannon Melero points out, he has now become "an elected representative of the very same women he admitted to harassing."