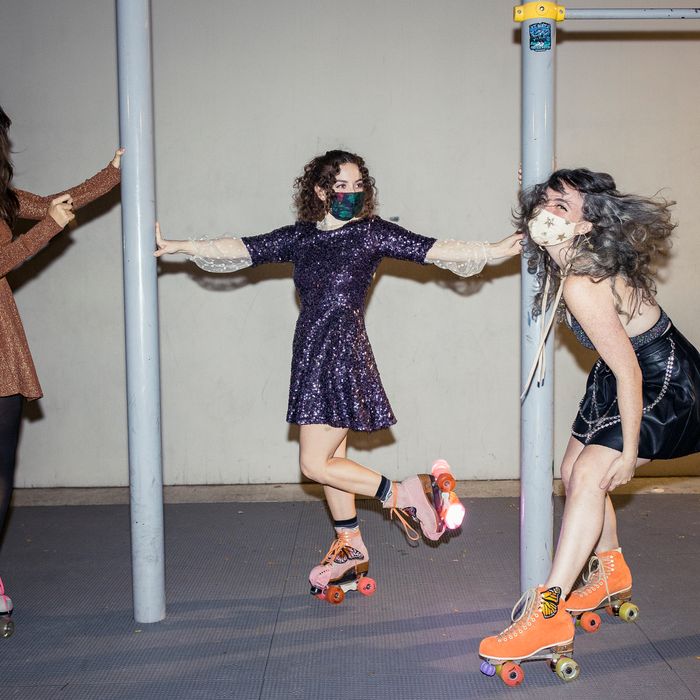 Siena McFetridge, Daisy Quirarte Thrasher, and Adele McDonald.
Photo: Sara Naomi Lewkowicz
Roller skating has long been a favorite pastime of New Yorkers, and this spring, as people began to emerge from lockdown, the sport — fun, outdoors, able to be enjoyed at a distance — was buoyed on yet another wave of enthusiasm. Some were motivated to dust off their wheels, while others laced up for the first time. Many were inspired by TikTok, where a slew of sunny, carefree viral videos contributed to a "worldwide shortage" of quad skates over the summer.
Adele McDonald, an engineer at Google, remembers the exact clip that influenced her to order a pair back in February. "It was some blonde girl in L.A. on the boardwalk, just rolling and vibing," she told the Cut on a recent Friday night while wearing a glitter mask and tying up her butterfly laces. "I was like, That looks amazing. I want to do that! And here we are!"
"Here" is Stroud Playground in Crown Heights, where McDonald is among an ever-expanding group of roller-skating enthusiasts who make up the Park Place Skaters. At least once a week, usually on Friday or Saturday around 9 p.m. once it's too dark to shoot hoops, they'll transform the basketball courts and surrounding track into a makeshift outdoor roller rink, complete with disco lights and a live DJ. (If you look closely, you can see an extension cord snaking across the street and up through a neighbor's second-floor window.) They often share the space with other roller groups in the area, including the Brooklyn Skate Society, which was founded by longtime skater and Flatbush native Will Crandall. But no matter who's hosting, they say that all wheels are welcome.
"Everyone's having a good time," said Cat Kotlowski, who was on a skateboard. "If you go to a skate park, people are trying really hard to do things. This is definitely a different vibe. There's a little more glitter."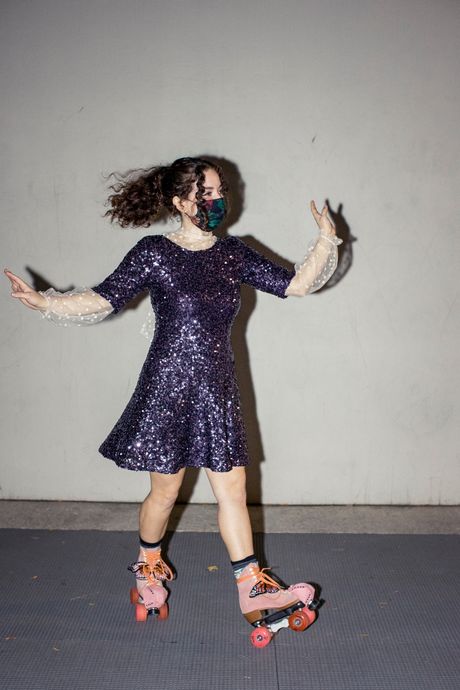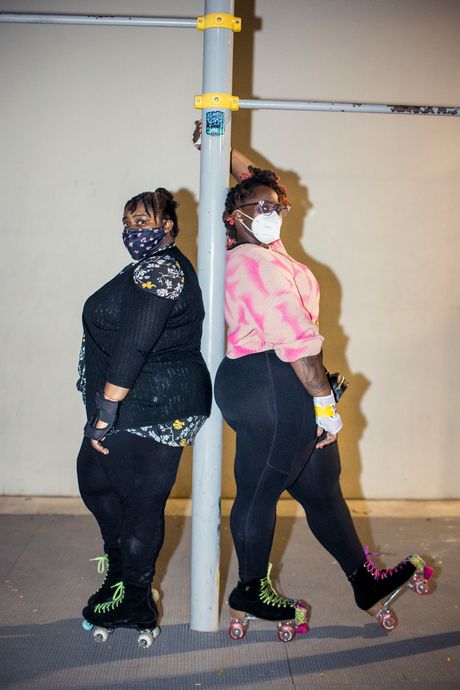 McDonald first came to the playground in May, back when the nets were still down and skaters had occupied the courts. She quickly started making friends — falling on your face in public can really take the edge off social interactions — and a group chat was formed. Those working out on the playground's Astroturf and pull-up bars, like Josh Pierre, who'd just moved to the neighborhood from Sheepshead Bay, were inspired to join as well.
And the group just kept growing. In mid-July, they hosted their first nighttime disco and created an official Instagram account, which they use to announce a new crowd-sourced theme each week, ranging from Canadian Tuxedo to Caribbean Night. A watchful cop car always sits nearby, but the event has never been broken up.
"Honestly, this has been a godsend," Pierre said during a recent disco on a Friday night — the one right before the election was called, when the air was noticeably warm. (So warm, in fact, he could skate comfortably without a shirt on.) The theme was "glitter," but he didn't have anything shiny on hand. "I underestimated how much seeing people out and about plays a factor in how I feel," he continued. "[During lockdown], I was by myself all the time. And then I came out here and started skating with everyone and I was like, Wow, this is what I needed."
"It's just freeing; you can escape the madness," echoed Yvette Goodridge, who'd actually just come over from Dreamland — another, much bigger roller disco in Prospect Park. "My job is pretty high-stress; I'm a school foods manager with the NYC Department of Education. I've been here the whole pandemic. I've had COVID. I just needed something that got me out of the house — that would allow me to social distance and still meet new people. This has been one of the greatest experiences of my life."
She was skating with a new friend, Ronda Johnson, an art teacher who lives nearby as well. "It's good exercise," she said. "But mentally, it's also keeping me sane. It's something to look forward to."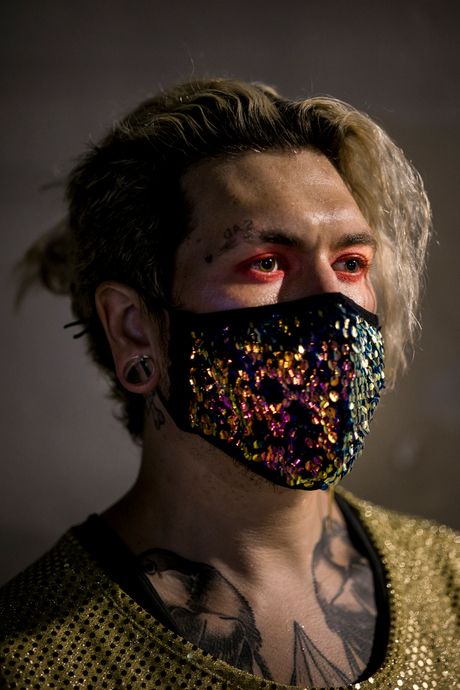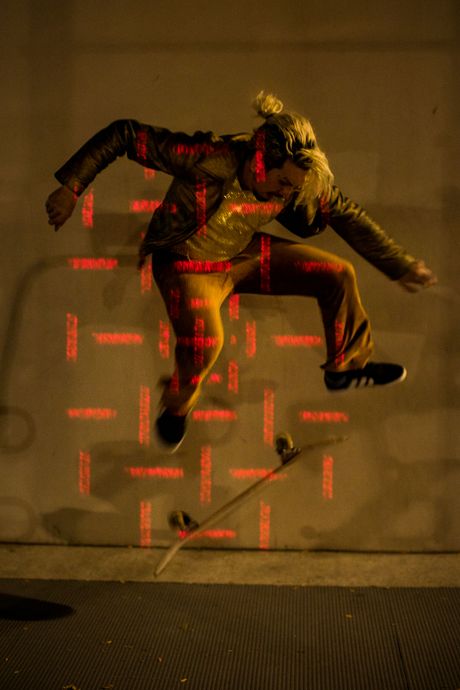 Since the earliest days of roller skating, the sport has offered a respite to New Yorkers. From Central Park's open-air rink to the Empire Roller Skating Center in Crown Heights, which closed in 2007, roller rinks have served as both recreational centers and community hubs. But although skating can bring people together, some roller rinks have a history of discriminating against Black skaters. Other beloved locations have closed due to gentrification.
When Crandall first heard about the sport's newfound popularity, he felt like it was another "culture vulture situation," referring to Black skate culture.
"I've been skating, but then during the pandemic, white people started skating," he said, gliding across the Stroud basketball court with the ease of a gel pen on paper. (Stroud re-opened after a $5 million renovation in 2019.) "It's all love," he added, saying that the Brooklyn Skate Society's goal is increasing neighborhood peace. They also opened up their "roll-out" events to in-line skaters, skateboarders, and scooters as well.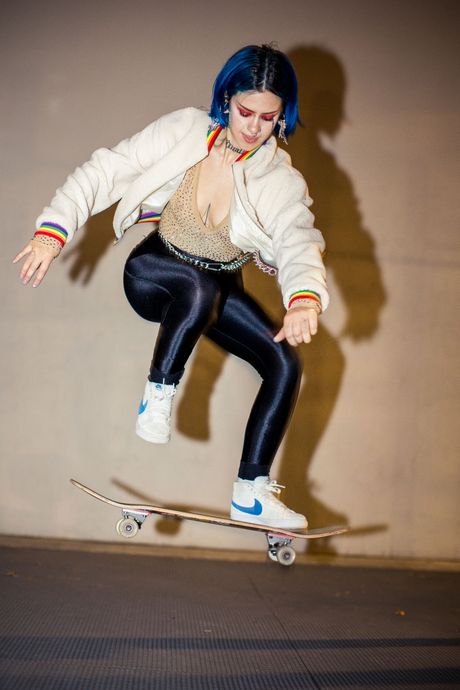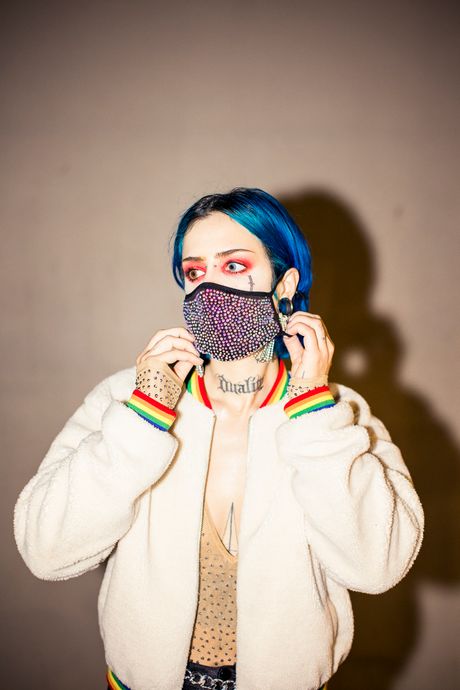 BSS vice-president Kimiko Kimble, who used to live on the block back before the park was renovated, feels a sense of nostalgia and rejuvenation when she skates now. "It brings back old childhood memories," she said. "I was a part of a clique back in the day; we used to call ourselves the Four Fly Girls, and we would go to Empire. All I knew how to do was roller skate forward and backward, nothing fancy. But I've been coming out here as an adult, watching everybody, and I'm learning every time. The people around me, they see me out here and offer their support. They show me stuff. They're like, You can do it! And I practice and I'm like, I got it!"
As fallen leaves blanket the basketball courts and winter weather settles in, skaters and roller skaters in the area are becoming increasingly scarce. The last Park Place Skaters event is Saturday night, and everyone is encouraged to come dressed as their favorite character. But it's been a good run.
"I've met more people in New York during quarantine than I have living here for four years," said Siena McFetridge, an early PPS member. "It has been amazing."