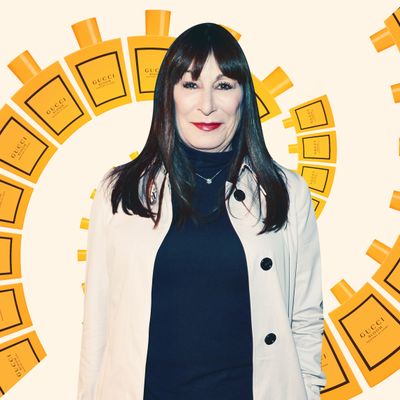 Photo-Illustration: by The Cut; Photos: Getty Images
Scientific studies confirm that, of all the senses, smell offers the best recall. In Scent Memories, the Cut asks people about the scents they associate with different times in their lives.
Next up is Anjelica Huston, three-time Oscar winner, director, and longtime Gucci fan. "Gucci has a long history with me. I remember when I was a little girl and my dad [John Huston] was in Rome making The Bible. All of his suitcases had that signature Gucci red and green ribbon. It was the chicest luggage there was. Then, I remember my first Gucci handbag was a big deal — it must have been when I was 12," recalled Huston. Now she is one of the four new faces of Gucci Bloom, starring in the new campaign for Gucci Bloom Profumo di Fiori. The Cut caught up with Huston to talk about her new sleeping partners, crispy sheets, and nutty smells.
My first scent memory: Marzipan. Well, actually, I remember the smell of milk, which I hated, so that might have been first. But I remember being in the south of France when I was 2, and somebody gave us a bar of soap that was actually marzipan. One of the beautiful things about marzipan is that it is very malleable and sculptural. I remember it being really delicious. I like nutty flavors, like hazelnuts and almonds.
Happiness smells like: Sunshine after the rain in the French or English countryside. It would be fresh rain or dew on a rose. English roses come to mind because they smell best. I always think of a certain blush rose with dewdrops.
Love smells like: The smell of your beloved's neck right behind his ear. The smell of a baby's breath. It's a sigh and inhale fully of the essence of a person you love. It's a smell that fills your heart and makes you feel complete. It's highly intimate.
Heartbreak or loss smells like: Rain on cement. It smells like an English gutter in the rain.
Friendship smells like: A lovely walk on the beach. It also smells like bamboo, something earthy and fresh. Friendship has everything to do with honesty and being up front, just like bamboo. Its shape is straight, upwards, and flexible. It can do many things. Bamboo can bend, and it can be one shape when it's dried and then raw, it's another. It's a miraculous wood.
Regret smells like: Something steely, metallic, hard, and bitter. It's a sense of biting down on something unforgiving. It's the smell of tears at the back of your throat. It's a very interior smell, rueful and inside.
Success smells like: Very expensive perfume. With maybe a little Champagne thrown in and a nice, large tin of beluga caviar.
The worst smell: The smell of death, of human decay. Or animal decay.
My ideal vacation smells like: The sea and the sun and night-blooming jasmine. It's that coolness which happens after a warm day on the earth.
My home smells like: The various animals I live with, but hopefully not too much. In my townhouse, I have cats and dogs. In my country abode, I have horses, goats, sheep, ponies, ducks, chickens. I prefer that they smell like flowers and sunshine, but animals lend a little earthiness to the mix.
The first thing I smell in the morning: My fresh, starchy pillowcase from the night before. I really like a crispy sheet. Then probably the second thing is opening my window and smelling the day, my garden, and the breeze, which is hopefully not smoky, like it's been for the last month in Los Angeles. I like that breeze off the ocean. And then nice, fresh coffee. I like it strong but with almond milk.
The last thing I smell before bed: My fresh, crispy sheet and turning off the light. Maybe a furry animal. These are moments where I don't have a significant other, so my sleeping partners are mostly furry. It's okay.
Every product is independently selected by our editors. Things you buy through our links may earn us a commission.