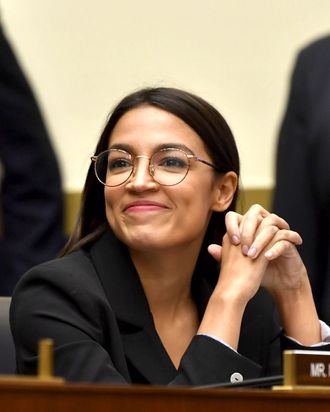 She loved it! That's that!
Photo: NICHOLAS KAMM/AFP via Getty Images
A little over a week ago, blessed images of Harry Styles in a big dress hit the internet: The pop star had just become the first man ever to cover Vogue all on his own, styled in a Gucci gown and shot by photographer Tyler Mitchell for the occasion. The accompanying profile discussed Harry's love of clothing and general disregard for gendering garments. The reception seemed largely positive — a beautiful boy in beautiful skirts, you're welcome — but conservative commentator Candace Owens took the opportunity to bemoan what she sees as the cultural demise of "manly men." Celebs, including Olivia Wilde (who recently cast Harry in Don't Worry Darling) and Zach Braff, quickly came to Harry's defense. Now, even New York Rep. Alexandria Ocasio-Cortez has waded into the fray. For the record, she thinks he looks hot. Correct.
In her Instagram stories on Saturday night, AOC — who got grief from conservatives last month for wearing (borrowed) designer clothes on her Vanity Fair cover, also shot by Mitchell — took questions from her followers, one of which was: "What do you think abt Harry Styles wearing a dress on the cover of Vogue?" To which the Congresswoman replied, per Harper's Bazaar:
It looks wonderful. The masculine and the feminine elements are balanced beautifully — the hair and jacket styling give me James Dean vibes too.




Some people are mad at it bc some folks are very sensitive to examining and exploring gender roles in society. Perhaps for some people it provokes some anger or insecurity around masculinity/femininity/etc. If it does, then maybe that's part of the point. Sit with that reaction and think about it, examine it, explore it, engage it, and grow with it.




What's the point of creating things if they don't make people think? Or feel or reflect? Especially as an artist or creative? Who wants to see the same things all the time? And never explore their assumptions?
"Anyways it looks bomb so," she concluded with a shrug emoji. Bomb in a dress, bomb in jorts! Let that be the final word on this matter.