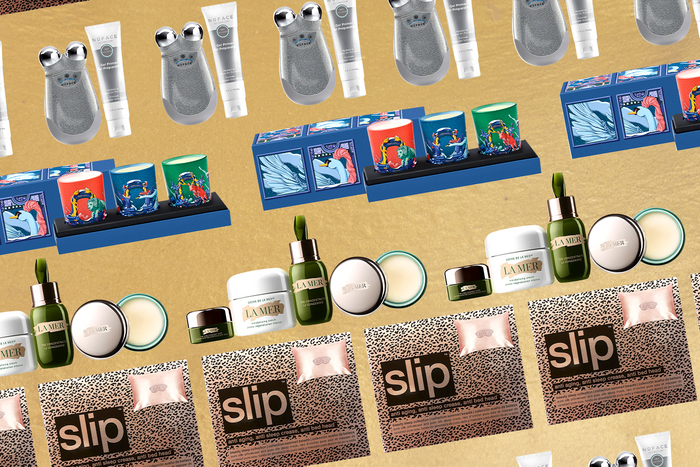 Photo: Courtesy of Saks Fifth Avenue
No matter how well you know someone, when it's time to give them a gift, it's hard not to get caught up over finding just the right thing. And since this year, we'll be celebrating the holidays amid the general stress of 2020, these decisions are going to call for a little extra attention.
To help answer your real-life gifting dilemmas, the Cut put out a call on Instagram and turned to Saks Fifth Avenue's beauty experts for suggestions on products that won't disappoint. So whether you're worrying over what fancy candle your mother-in-law might like or trying to find your boyfriend a skincare routine that'll make him feel better about staring at his face all day on video calls, the Saks Beauty team has you covered. Read on for our guide to pampering everyone on your list this year.
Is a gift set too cliché?
Put simply: never. It's the best way to give your giftee everything they want at an amazing value. Rather than guessing their favorite lipstick shade, choose a gift set that lets them try out six. (Maybe they'll find their new go-to!) Or opt for a skincare duo that takes their routine to a luxe new level, morning and night. Plus, with packaging this pretty, you can almost skip the wrapping. It's a win-win.
How can I gift anti-aging skincare without the overtones of 'you're old'?
You want to look for items that have anti-aging benefits, but that don't necessarily make these the focus of the gift. Think high-tech tools and self-care skincare sets that are fun to use and offer the recipient moments of indulgence, while still discreetly improving their overall skin quality. With cult-favorite treatments like those in Sunday Riley's Power Couple kit and futuristic-looking gadgets like Nuface's Facial Toning Device, it's as much about the journey as the destination.
What are your favorite brands that are vegan, cruelty-free, sustainable, and/or supply-chain conscious?
It's hard to choose just one! The best place to explore is our Clean Beauty category on Saks.com — you'll find so many wonderful options that your recipient will adore. Tata Harper is among our most-loved brands for 100-percent natural products that are both luxurious and ultra-effective, while Bloomeffects is a newer discovery, tapping into the hydrating benefits of tulip extracts.
How can I choose a fragrance if I don't know what someone likes?
Scent can be so personal, so instead of driving yourself mad trying to guess your recipient's favorite fragrance, instead pick scents that remind you of them or that bring to mind a memory you share. This will personalize the gift and hopefully connect them to that same emotion or memory when they unwrap the gift. An unforgettable vacation in the mountains? Go for something woody. Garden always filled with roses? Choose something floral with notes of rose. If that still feels too risky, then choose a gift set that includes several options so your recipient can try them all and find their new signature scent.
What are some good beauty basics for men?
Holiday is the perfect time to set him up for success by purchasing sets that include a full regimen or a broad selection of options. Consider skincare routine sets, cologne assortments, or grooming and shaving kits that will have everything he needs and wants.
What do you recommend gifting during quarantine? I'm looking for something for self-care that's not too pricey.
A mask! It's the perfect gift that will allow someone to relax at home, even if just for a moment. Luckily, Saks has all types of masks, and not only for your face. Consider some of these options, none of which will break the bank. Give their hands and feet some winter TLC with a moisturizing kit, or pick up a few of Bawdy Beauty's sheet masks for a daily "facial" for their derrière.
What's the best luxury candle to give if you don't know what scents someone likes?
It's hard to go wrong with a holiday-scented candle this time of year. Seek out notes like fir or pine, or holiday spices like cinnamon. If you're looking for something less seasonally specific, then you'll want to stick to classic scents that create a soothing and warm environment, like lavender, citrus, or even leather and wood.
This advertising content was produced in collaboration between Vox Creative and our sponsor, without involvement from Vox Media editorial staff.