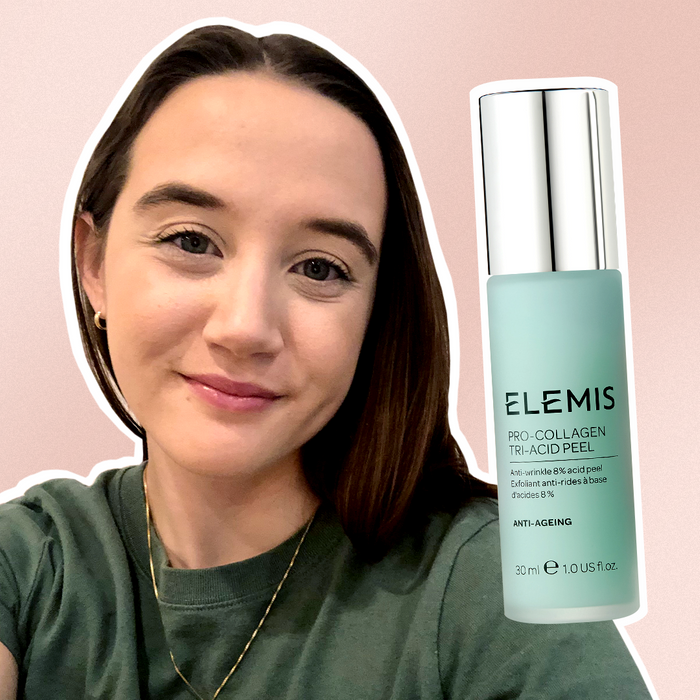 Photo Illustration: Alex Cheung
Photo: Courtesy of the talent
Sometimes, we could all use a fresh start. That's the promise of a great exfoliator: sloughing off the bad stuff so our skin, at least, can look rejuvenated (even when the rest of us doesn't feel that way). One product that helps push the "reset" button is Elemis' Pro-Collagen Tri-Acid Peel, a potent anti-aging and hydrating solution that targets fine lines while leaving skin feeling softer and more radiant.
Like the rest of the British brand's Pro-Collagen Marine line, the peel is gentle but delivers the kind of results rarely seen outside a dermatologist's office. And in a year in which many of us have made adjustments to our beauty routines — maybe your trips to the derm have gone virtual, or you've become intimately acquainted with how your skin reacts to stress — that couldn't come at a better time. We sent the Pro-Collagen Tri-Acid Peel to Helen Murphy, an editor at Vox Creative. After spending so much time in her New York City apartment over the last several months, her skin was feeling stifled, and she wanted an exfoliator that would bring back its natural glow. Read on to see what she thought of the peel and shop Elemis' Star Performers set to try all the brand's best-selling products for glowing skin.
On how 2020 has treated her skin:
"I have combination-to-oily skin, so I'm always on the lookout for breakouts — they happen often enough to be a huge nuisance, and 'maskne' has been my worst skin enemy this year. I've seen some of my worst breakouts since high school! Besides that, my main skin concerns are acne scarring and keeping my skin feeling glowing and hydrated. As the weather gets colder, I'm noticing my skin getting dryer and have been trying to counteract that with extra moisturizer. I have seen improvements in my skin this year because I've been wearing less makeup, but I also think that all this extra time staying inside (missing out on some natural vitamins) has made my skin extra dull and less glowy than normal."
On her current skincare routine:
"I try to keep my skincare routine pretty pared-down to avoid overloading my skin with different products. In the mornings, I use a cleanser made for oily skin, followed by a brightening serum, followed by a healthy amount of moisturizer — and, of course, sunscreen as the last step. In the evenings, I use a more gentle cleanser, followed by a serum meant to fade scarring and dark spots. I finish my evening routine with another healthy dose of moisturizer."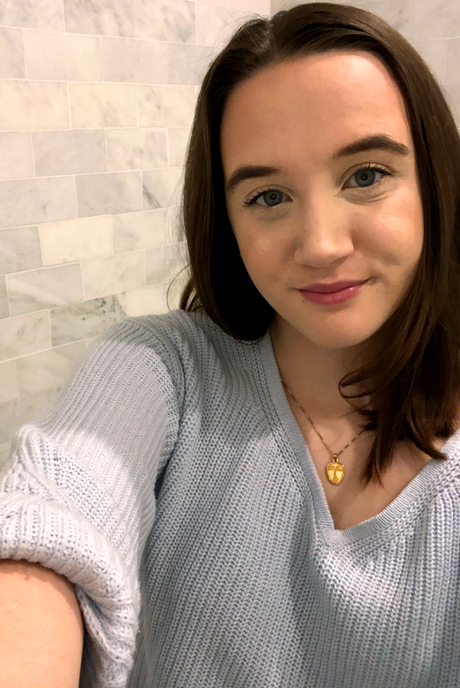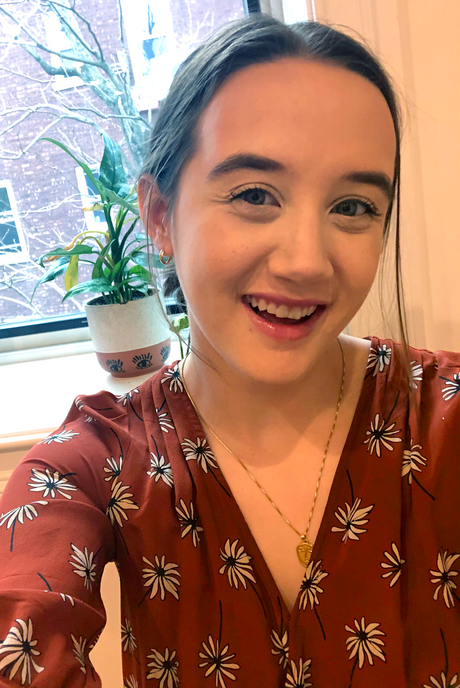 On the one skincare step she usually neglects:
"I had never used any Elemis products before, but I had always heard good things about the brand, and specifically, I've heard the acid peel referred to as a 'holy grail' product by skincare lovers. I was intrigued by the peel because exfoliating is often the skincare step I neglect — I'll sometimes do an exfoliating face mask, but I've never found one that I really liked. I was hoping that the peel would leave my skin feeling brighter, smoother, and more refreshed since it's been feeling a little dull this year. I was also hoping the exfoliation would help fade some of my scarring and dark spots, and that the product's anti-aging benefits would improve my skin's overall texture."
On her first time using the Pro-Collagen Tri-Acid Peel:
"My first impression of the acid peel was that it smelled amazing, and felt luxurious and smooth as I was putting it on. The best part, though, was that the peel didn't burn or irritate my skin at all. My skin is a little sensitive, and with other acid-based masks and products, I've felt an uncomfortable and irritating sensation that the Elemis peel didn't have. It tingled a little bit, but just enough to know it was working properly."
On fitting the peel into her week:
"I've been using it on Sunday evenings so that I can start the week off with fresh, rejuvenated skin. (It definitely helps counteract the Sunday scaries!) I also use it halfway through the week, on Wednesday evenings. I use the peel on freshly-cleansed skin and follow it up with moisturizer and hydrating serum to ensure the exfoliating acid doesn't cause any lingering dryness."
So, what's the verdict?
"Every time I use the peel, my skin has a visible glow for days afterward. I use it in the evenings, and when I wake up in the morning, I see a noticeable brightness and luminosity — as I mentioned, my skin has seemed a little dull this year, so that's not normal for me! The peel is also one of the only products that has kept my 'maskne' under control, and I haven't seen any new zits since I started using it. I've also noticed that my skin looks more youthful; I luckily don't have to worry about fine lines and wrinkles just yet, but the peel has improved the elasticity of my skin, making it look younger than it actually is. I'll definitely keep using it (and the Marine Cream moisturizer, which I've also been loving for my dry skin) — I was in need of an exfoliating product to add into my weekly skincare lineup, and this one is exactly what I was looking for."
This advertising content was produced in collaboration between Vox Creative and our sponsor, without involvement from Vox Media editorial staff.