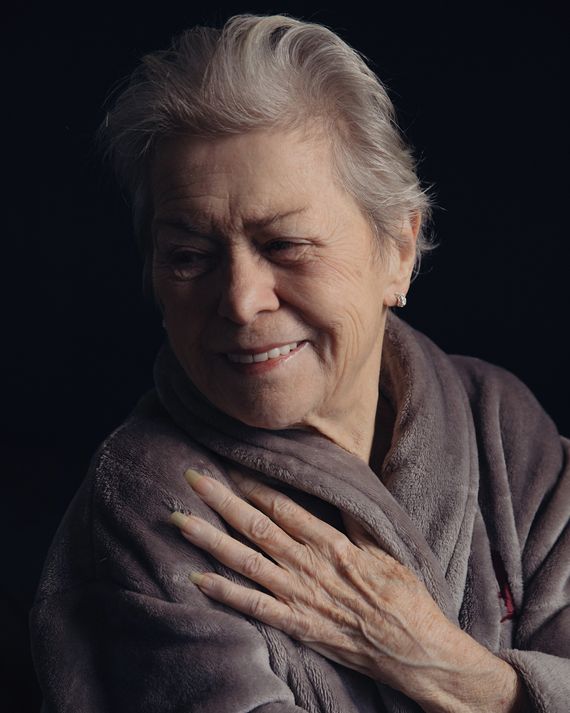 Betty Dodson.
Photo: Celeste Sloman/The New York Times/Redux
Betty Dodson, the pioneering sexologist, educator, and author, died in New York City on Saturday. She was 91 years old.
Dodson built her career around educating women in the art self-pleasure. In the 1970s, she began hosting masturbation workshops in her Manhattan apartment, in which women got naked, examined one another's vulvas and then practiced pleasuring themselves with a vibrator. (Or, as Dodson put it last year when asked what happens in her workshops: "Everyone gets off.")
She was inspired to start the workshops, she said, after attending several orgies and realizing that even the most freewheeling, sex-positive women often struggled to orgasm. Effective masturbation, she believed, was a form of liberation for women, a way for them to learn to prioritize their own sexual experience and reduce their dependence on men. As she wrote in her 2010 memoir, Sex by Design: The Betty Dodson Story, "Instinct told me that sexual mobility was the same as social mobility. Men had it and women didn't."
Born in Wichita, Kansas, on August 24, 1929, Dodson moved to New York when she was 20 to pursue a career as an artist. She was briefly married to an advertising executive, but the two were sexually incompatible; she was "not orgasmic" with him, she once told Salon. Dodson said her sexual shame and dissatisfaction led her to start drinking heavily. After her divorce in 1965, she got sober, and, according to the New York Times, it was in Alcoholics Anonymous that she met a man who, she said, taught her about self-pleasure and would remain one of her sexual partners until his death in 2008.
Dodson's own sexuality was fluid. She described herself as "heterosexual, bisexual, lesbian." Her attitude toward men, the Times noted in a profile of her earlier this year, was occasionally dismissive. "Men are so two-dimensional," she said. "If there is anything interesting about them, it's because of the women they've been with." There were exceptions, though. She recalled with fondness, for example, Eric Wilkinson, the man she lived with for over a decade when she was in her 70s and he was in his 20s. "He was so beautiful. He had the perfect body, broad shoulders, good-size genitals, and tight bones."
Gruff, blunt, and wickedly funny, Dodson's teachings have been hugely influential in how women's sexual health and pleasure are discussed today. Her book Sex for One has been translated into over 25 languages; her self-pleasure workshops are taught by "bodysex leaders," as they are known, around the world; and she even worked as an adviser for New York's popular Museum of Sex. "Betty had it all," Annie Sprinkle, the 1970s porn star turned sex educator, who was a student of Dodson's, told the Times. "She popularized the clitoris and clitoral orgasms, and gave the clitoris celebrity status."
But even if the conversation around female pleasure has come a long way from where it was when Dodson was first attending orgies, there's still a long way to go. Consider her appearance last year on The Goop Lab, Netflix's docuseries about Gwyneth Paltrow's lifestyle company. In an episode called "The Pleasure Is Ours," Dodson preaches how important it is that women "run the fuck," and she makes Paltrow's cheeks blush the same shade of millennial pink as the couch she's sitting on. She also corrects Paltrow's terminology. When the Goop founder boasts that "vaginas" are her favorite subject, Dodson cuts her off. "The vagina's the birth canal only," she says firmly. "You wanna talk about the vulva, which is the clitoris and the inner lips and all that good shit around it."
It's a telling moment. Paltrow is a woman who advances and profits from the notion of female pleasure by peddling expensive jade yoni eggs and a candle that supposedly smells like her vagina. (Did she mean vagina or vulva? I guess we don't know.) But she's iffy on the specifics of female anatomy, and a comment about women "running the fuck" makes her blush. Clearly, Dodson's message of open and honest communication around female sexual pleasure is as relevant today as it was when she hosted her first masturbation workshop in the 1970s.
As for her own pleasure, Dodson never stopped enjoying it. As she told the Cut back in 2011, when she was 83: "Last month, I had a knockout [orgasm]. I went, 'Whoa, girl. You still got it.'"