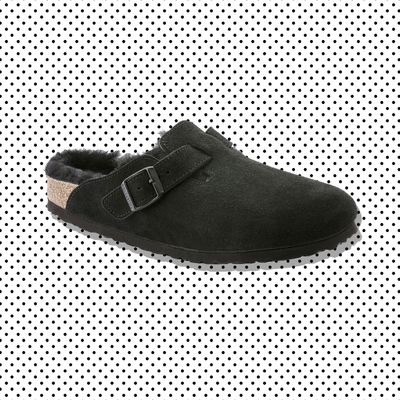 Shearling Birkenstocks worn with Dries Van Noten leggings.
Photo: Retailer
Not long before the pandemic shut down New York Magazine's office, I found myself in the elevator with my co-worker Amy Larocca. Amy has interviewed everyone from Tom Ford to Karl Lagerfeld, and she always looks impeccable. On this particular day, she wore a pair of black, shearling-lined Birkenstocks, and I made some comment about how comfortable they looked. They're the best, she whispered, as if it were our little secret. She urged me to get a pair of my own, and I lodged our interaction in the back of my brain as she floated, seemingly on a cloud, off to her desk.
Of course, shearling-lined Birkenstocks are not a secret. A number of my co-workers also own them, and they've been popular among fashion types ever since designer Phoebe Philo took took the black Arizona style, lined it with mink, and sent it down the Celine runway in October of 2012. New York's fashion critic-at-large Cathy Horyn even wrote that she was once inspired to have a local furrier line a pair for her in sable.
At $165, though, you can't beat the basic version. Amy was right. A few months after our interaction, when we found ourselves working from home indefinitely in our bare feet, I finally took her advice and bought myself a pair. And I haven't taken them off since. Any other shoe feels like a struggle now. Laces? Absolutely not. They're so plush, one co-worker described them as being "like sex for your feet," which I can't say I agree with, but I would wear them to bed if I could.
After all this time, I've realized that real secret to these Birkenstocks, which I think Amy was maybe getting at, is that even though they feel like slippers, they don't actually look like them. Especially not the black pair. In the last three months, I've got away with wearing them them to the grocery store, to a museum, and to an outdoor date at a nice wine bar. I even look forward to wearing them to the office, whenever that may be.
If you buy something through our links, New York may earn an affiliate commission.