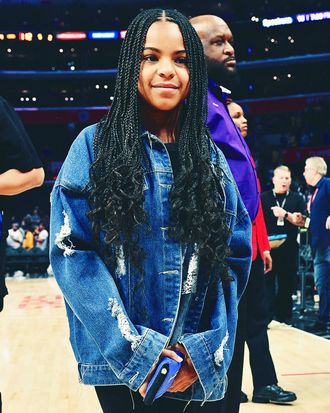 Blue Ivy Carter
Photo: Allen Berezovsky/Getty Images
Blue Ivy Carter, the in demand 8-year-old, has added yet another gig to her already well-rounded résumé. In addition to hitting Billboard charts, doing science, bidding on art, photographing her mom (Beyoncé), and managing her parents (Beyoncé and Jay Z), Blue Ivy is now narrating New York Times best sellers.
Earlier today, Matthew A. Cherry, author and director of the Oscar-winning animated film Hair Love, tweeted a casual link to the film's Audible audiobook component. With no accompanying text, it simply showcased the book's cute cover art and an audio snippet of Blue Ivy adorably introducing the book's title and the book's author, before introducing herself as narrator.
Listening to the nine-second clip is heartwarming on its own, especially when you remember the fact that Blue was shamed for her natural hair as an actual baby, which was not that long ago. Now here she is, 8 years old and narrating a book about taking pride in your natural hair. To further melt into a puddle of goodness, head somewhere where audiobooks are sold to hear her read the whole four-minute story of a Black father learning to do his daughter Zuri's hair for the first time. Repeat as necessary.
That should tide you over until the animated film turned book turned audiobook eventually premieres in its newest incarnation: a 12-episode animated spinoff series on HBO Max called Young Love, which will follow Zuri, her parents, and their pet cat Rocky. No word on if Blue will follow in the footsteps of her mom and aunt and contribute to the theme song, Proud Family–style.