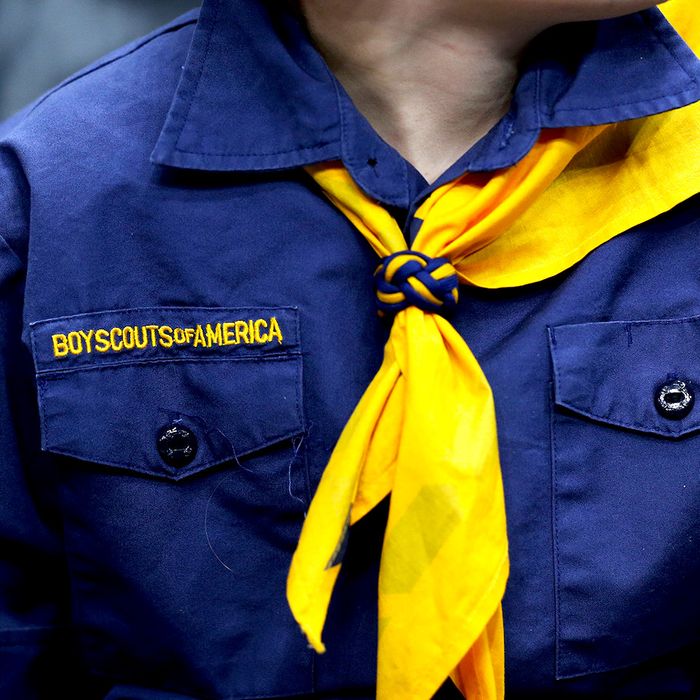 The Boy Scouts of America declared bankruptcy in February.
Photo: John J. Kim/TNS via Getty Images
Nine months after decades of assault and misconduct allegations drove the Boy Scouts of America to file for bankruptcy, the organization has been deluged with sex-abuse lawsuits — 82,663 and counting, according to the New York Times.
The Boy Scouts originally sought Chapter 11 protections in February, with an eye toward survival through the establishment of a Victims Compensation Trust. The volume of complaints has been staggering.
"I knew there were a lot of cases," attorney Paul Mones, who has decades of experience working on Boy Scouts–related lawsuits, told the Times. "I never contemplated it would be a number close to this."
In May, a Delaware bankruptcy court set a November 16 deadline for former Scouts to file claims against the BSA. Delaware Online reports that, according to the BSA's own records, they knew at least "12,000 boys have been molested by 7,800 abusers since the 1920s." According to Delaware Public Media, the organization kept "perversion files" documenting abuse allegations against Scoutmasters and leaders. "The Boy Scout policy for decades was not to report to law enforcement," Mones told DPM, which notes that the list came to light in the course of one of Mones's cases. "In fact, they allowed many of these men to go quietly into that good night and leave."
When the BSA filed for bankruptcy, it reportedly faced hundreds of individual lawsuits from people who said they'd been molested as Scouts, as certain states made adjustments to their statutes of limitations on sex abuse. For example: Whereas New York previously required victims to file lawsuits within five years of an alleged offense, last August's Child Victims Act suspended that expiration date. Complainants had a yearlong window in which to file regardless of when incidents occurred, resulting in a crush of lawsuits against the Catholic Church, and some against the BSA.
Now, across the board, sex-abuse complaints against the BSA reportedly eclipse litigation even against the Church, which the Times ballparks around 9,000 lawsuits. (The actual number of victims is likely much higher, of course.) Meanwhile, allegations against the Boy Scouts have reportedly poured in from all 50 states, and from military bases in different parts of the world.
The BSA reportedly has more than $1 billion in assets, while local Boy Scouts councils also own camps and land nationwide. In February, ABC reported that the organization could be forced to sell off some of its holdings in order to satisfy victims' claims for damages. In a statement to the Times, the BSA said: "The response we have seen from survivors has been gut-wrenching. We are deeply sorry."