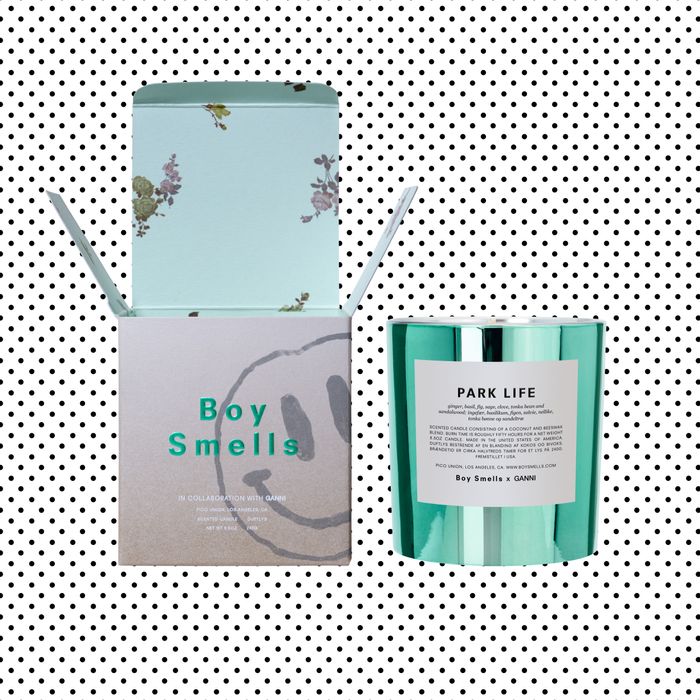 Last February, the indie candle brand Boy Smells collaborated with Kacey Musgraves on the 'Slow Burn' candle, named after one of her hit songs. Fans went wild: It sold out within 24 hours of its release and had a waitlist of over 15,000 people. Now, Boy Smells is back with another collaboration that feels likely to spark a similar frenzy. Boy Smells has teamed up with Coppenhagan-based contemporary fashion label Ganni to bring us the "Park Life" candle.
With the weather getting colder, the brands have marketed the "Park Life" candle as a way to "bring the outside in." "In Copenhagen, we're lucky we have lots of open spaces — you're never far from a park or the seaside," said Ganni creative director Ditte Reffstrup in a statement. In creating this new product, the brands wanted to emphasize scent, style, and nature.
The aromatic experience features notes of ginger, basil, fig, sage, clove, tonka bean, and sandalwood, evoking memories of a fall day. Lovely, right? The 8.5 ounce, $39 soy-and-beeswax concoction is packaged in a metallic, mint green vessel featuring the classic Boy Smells sans serif logo, all housed in a
sage-colored box embossed with Ganni's smiley face emblem. The autumnal candle was crafted in collaboration with SPACE, a shop for emerging designers at Nordstrom.
"We have always admired Ganni's reinvention of Scandanavian style and their playful approach to their designs, and have of course been long time fans of the Nordstrom brand as well," said Boy Smells creator and co-founder Matthew Herman in a statement.
"Park Life" launched November 19 and will be available for a limited time at Nordstrom, as well as on the Boy Smells site. With the holidays right around the corner, this candle is the perfect gift for anyone who loves a good olfactory experience.