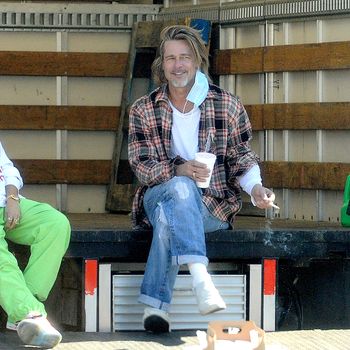 Effortless.
Photo: Jeff Rayner/Coleman-Rayner
Well well well, what do we have here? Looks to me like America's favorite Property Brother, Brad Pitt, enjoying a well-earned moment of relaxation after a long day moving melons. According to the Daily Mail, the actor spent some time last week driving a large truck around South Central Los Angeles, helping to distribute free grocery boxes and wearing the hell out of a baggy jean. See above!
Over the summer, Brad volunteered with Watts Community Core, according to Fox 11, delivering food to families in need. The Mail does not say which program he worked with this time, but their source does assert that Brad "was grabbing more boxes than anyone there and then carrying probably six boxes at a time on a cart." The most boxes! Very impressive! Apparently, "the man did not stop all day," this witness added. He just packed the carts and handed out produce to people largely unaware "they were in the presence of one of the world's most famous men because of his casual nature and the mask he was wearing." Casual nature, indeed. I mean look at him:
Just look at him!
One more time, with feeling:
"He was completely committed," the source continued. "His heart was in it and it was just a hats-off moment. It seemed like it was the real Brad Pitt, which we don't really ever get to see." A very special treat, particularly given recent reports.
Anyway, this observer went on to say that Brad paused only to eat "a really basic meal of what seemed to be scrambled eggs and mashed potato," and for the occasional cigarette break. He "didn't seem to have a care in the world," the source noted. "There was zero swagger."
Based on the above image, however, I'd have to disagree. Carefree? Hell yeah. This photo is the embodiment of breezy nonchalance. It simply refuses to leave us in peace. Tousled beachy hair on the cusp of arranging itself into slut-bang formation? Check. Mask dangling from a single ear as if making way for whispered gossip? Also check! This photo is composed solely of swagger, not that that was the point of this venture. But nonetheless, we thank him for his service.