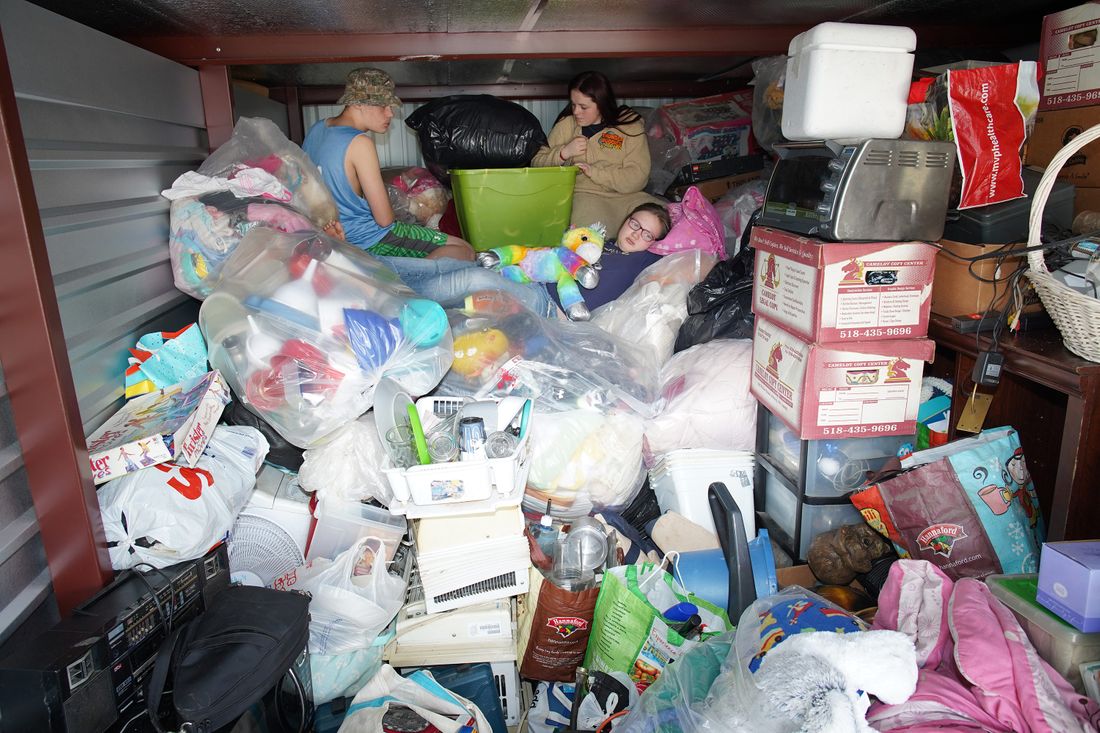 April 8
: Barbara's storage unit, Troy, New York. The kids wanted to retrieve some personal items to take to the shelter. Amber cried while her brother and sister searched for the unicorn that Amber said would "calm her down."
Photo: Brenda Ann Kenneally
When photographer Brenda Ann Kenneally drove from New York City to the upstate city of Troy, New York, in January, she said she felt like she was on her way to report on the apocalypse. Kenneally, 60, grew up in the region, and has spent decades capturing the lives and experiences of the families living below the poverty line there. In 2018, she released a book called Upstate Girls: Unraveling Collar City, which captured the day-to-day experiences of families in the region over the course of 14 years. It was a massive, collaborative effort, but almost as soon as it was done, Kenneally knew there was more work to be done. She had experienced poverty and homelessness growing up, and seen firsthand how all of the generational trauma, disinvestment, and marginalization had affected this community, where over a quarter of the population lives below the poverty line, and felt it had become incumbent upon her to stay with it. As she drove back in January, she said that everything felt so out of balance socially and economically, she couldn't help but feel like she was documenting the end times. Then, the pandemic hit.
Kenneally decided to stay in Troy and work on her second book. As a photographer, she knew big, dramatic pictures would be coming from emergency rooms and from Black Lives Matter and other protests, but she knew her work was here: "I do believe you can tell every story in America through that one neighborhood."
She bought a house in Troy, which is how she got to know Barbara, the subject of this photo essay. Barbara was her neighbor. She and her kids would go over to Kenneally's to hang out, sit around bonfires, and scrapbook. Days before New York State's eviction moratorium was enacted in March, Barbara, who lives on Social Security disability insurance, was evicted. Unable to tour new apartments due to COVID precautions, she and her three kids moved into the Schuyler Inn homeless shelter. Kenneally followed the family's journey, supporting them when possible. She put Barbara in touch with Legal Aid when it looked like the shelter might evict them, and the family was able to stay.
Meanwhile, Andrew Cuomo was reporting on record numbers of COVID deaths, and schools were shutting down. Barbara and her family weren't particularly afraid of COVID — it was just something that made their life that much harder. For example, though schooling for her three kids had moved online, the shelter didn't have Wi-Fi, and the only internet available to the family was across the street at Burger King.
Now, finally, Barbara and her kids are in a new apartment. And for Kenneally, her work continues, and she hopes people will pay attention.
"I went through all that stuff, and eventually found photography, and I knew that there were things that were systematically unjust. I knew that since I was 12," Kenneally says. "This is an outrage. This is something that needs to be seen. It's an injustice."