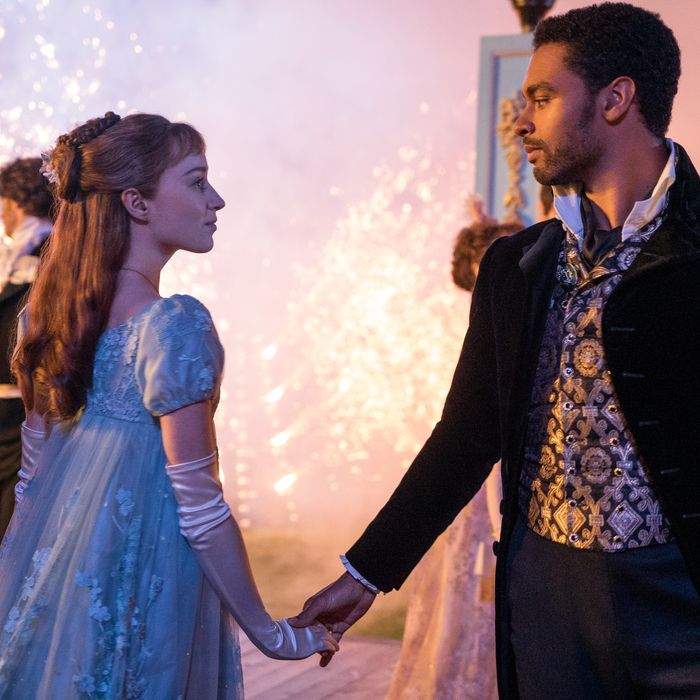 Photo: LIAM DANIEL/NETFLIX
What if Gossip Girl was old-timey? This is the question asked and answered by the trailer for Shonda Rhimes's new Netflix show Bridgerton. Like Gossip Girl, the show follows a bunch of hot, horny people who are constantly boning and fighting. But instead of the world of early-aughts New York City private schools, it's set in Regency-era England — and instead of a blog, everyone gets their local gossip from a little printed newsletter composed by a "Lady Whistledown," whose shit-talking is narrated by the incomparable Dame Julie Andrews.
The trailer, released on Monday, is full of top hats, dramatic violin music, and people having sex in elegant bed chambers, surrounded by rich, luxurious fabrics. Even though toothpaste wasn't really a thing in Georgian England and BHA exfoliants wouldn't come around for ages, everyone has perfect skin and teeth, and the male characters appear to keep up a rigorous chest-waxing schedule.
Bridgerton is based on author Julia Quinn's popular book series of the same name, and revolves around Regency-era London's competitive marriage market.
"I remember I was almost scaring people, like, 'We have to get these crazy romance novels — they're hot and they're sexy and they're really interesting,'" Rhimes said of the series in a recent Hollywood Reporter interview.
The show is set to premiere on Netflix on Christmas day. What do you think the chances are that Lady Whistledown is actually Dan Humphrey? I guess we'll have to wait and see.