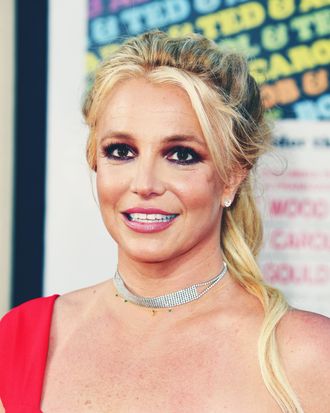 Britney Spears.
Photo: Steve Granitz/WireImage
Britney Spears's ongoing legal battle to reclaim control of her career and finances from her father, Jamie Spears, continues apace. During a court hearing yesterday, Spears said through her lawyer that she is "afraid" of her father, and that if he retains guardianship over her estate, she will never take the stage again.
"My client has informed me that she is afraid of her father," her lawyer, Samuel D. Ingham III, said via video conference. "She will not perform as long as her father is in charge of her career."
The hearing, which was scheduled to review accounting of Britney and Jamie's expenses, was a bit of a mixed bag. As the Los Angeles Times reports, Los Angeles Superior Court Judge Brenda Penny upheld Jamie's role as conservator. (He was first appointed to this position in 2008 after Spears suffered a public "breakdown.") However, Penny conveyed that she would be open to hearing future petitions to sever Jamie's control over Britney's estate, per court documents, and also appointed a financial company Bessemer Trust as a co-conservator, per Britney's request.
While it's pretty evident how Britney feels about the arrangement, seeing as she's locked in this legal battle, she's been relatively silent on the subject, at least publicly. (In 2008, she was captured in a recording, saying, "I basically just want my life back.") Many of Britney's ardent fans — known collectively as the #FreeBritney movement — have been fighting to extricate her from the conservatorship for 12 years, and argue that the pop star has been hiding coded distress signals in her cryptic social-media posts. One such example: Fans thought she was making a cry for help after posting an Instagram of a Hans Zatzka painting with doves, as someone had commented on one of her Instagrams, "post doves if she was in trouble."
Meanwhile, Jamie continues to fight tooth and nail to retain control over his daughter's estate, even though they have no "viable working relationship" and have not spoken in a "long while," Britney's lawyer said.