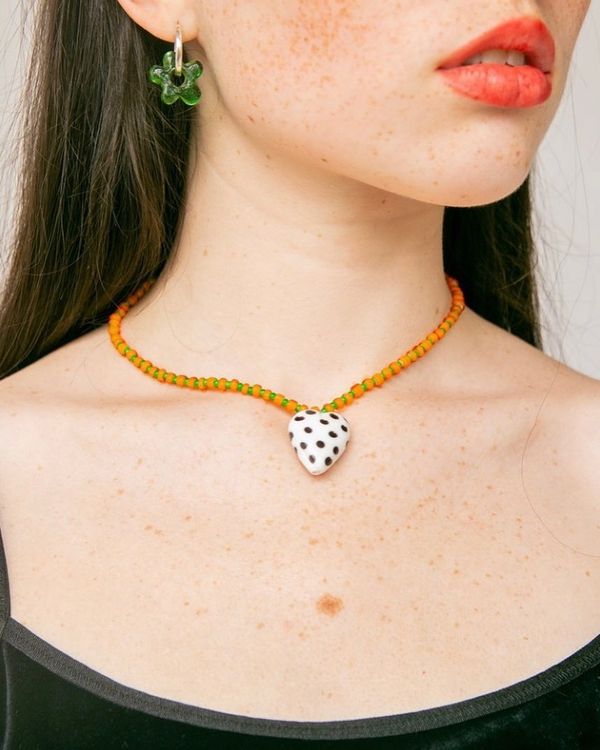 Photo: Courtesy of Brooke Callahan
Brooke Callahan hand-makes truly one-of-a-kind jewelry — meaning each piece is, in fact, one of one. Last year, while on vacation from her fashion PR job, she stumbled across a glassblowing studio in Rome. Captivated by a trove of little glass flowers, she began working with one of the studio's artisans. At first, she made jewelry for her friends using the individually produced glass bits, but then her business started to grow, and now she's appearing on fashion-girl holiday wish lists.
The colors she uses are reminiscent of glassware from the 1970s, when everything from ashtrays to vases was made in shades of orange, marigold, bottle green, and turquoise. "Whether I'm finding collaborators, materials, or inspiration, I'm teaching myself as I go and hoping that what I create that feels right to me will click with others," Callahan told the Cut.
Full disclosure: Callahan is an old friend of mine. Having known her for a long time, her inspiration makes sense. When we were teens, she threw a '70s-themed party at her parents' house. We were all sent home for smoking cigarettes outside, but before that happened, I'm pretty sure I saw some of that vintage glassware scattered about against the mustard wallpaper.
These days, to make her jewelry, Callahan searches for vintage glass beads at places like of Beads of Paradise on 17th Street and on online antique shops. Then she makes a sort of jewelry salad, finding ways to place all the pieces alongside her custom glass Italian charms. To me, one particularly stands out: a black-and-white polka-dot heart on a string of orange-and-green beads that mixes her retro sensibility with fashion-girl kitsch.
See the one-of-a-kind necklace below, and shop Brooke's entire store here now, before too many fashion girls discover her.