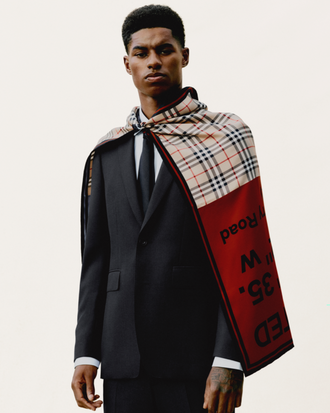 Photo: Courtesy of Burberry/ Rafael Pavarotti
Burberry is partnering with English footballer and Manchester United forward Marcus Rashford in his efforts to end child hunger. Growing up, Rashford was personally impacted by child food poverty and now uses his platform as a public figure to support charities and youth organizations, most recently collaborating with a brand as quintessentially British as soccer: Burberry. The brand has committed to supporting many youth-based charities across the United Kingdom and globally.
Specifically, Burberry is working with London Youth, a charity that supports over 600 community organizations, to provide grants at 15 locations to continue their programming for underserved youth. In Manchester, the brand will be supporting Norbrook Youth Club and Woodhouse Park Lifestyle Centre, both organizations that impacted Rashford as a child.
Burberry is also working with Wide Rainbow, an NYC arts-education nonprofit organization, to provide art supplies, food deliveries, and music education to communities lacking materials. Furthermore, the brand is partnering with the International Youth Foundation to contribute to the Global Youth Resiliency Fund, which enables young entrepreneurs and community leaders to find solutions to global challenges, including closing the nutrition gap.
Burberry has also continued its donations to FareShare, which will provide over 200,000 meals to 11,000 charities and communities across the United Kingdom. This past summer, Rashford raised £20 million for FareShare and worked to extend meal programs to over 1.3 million vulnerable children. In partnering with Rashford, Burberry hopes to nurture the next generation and shape a more inclusive, global future.