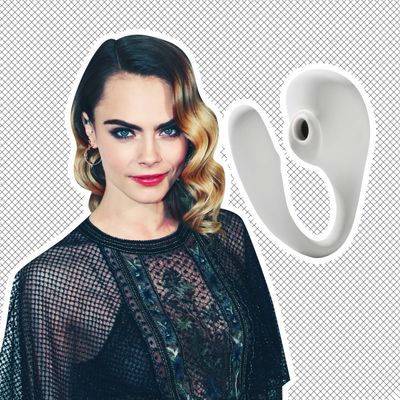 Photo-Illustration: by The Cut; Photos: Getty Images, Lora DiCarlo
As of yesterday, Cara Delevingne is now the proud co-owner and creative adviser of an award-winning sex-toy company. "This is something I've been thinking about for a very long time, and it's taken a while to find the right people to do it with," Delevingne told Fast Company. "I grew up pretty repressed and English in terms of sexuality. That relationship that you have with yourself is the most important one in the world."
That Delevingne is joining a sex-toy company is not in itself surprising—some of her most famous paparazzi photos portray her lugging a giant leather sex bench into her home. What is interesting is that the sex-tech company she joined was at the center of a mini scandal in the tech world last year. The company debuted their Osé Robotic Massager, a huge vibrator-slash-dildo, at the CES tech conference, alongside wireless chargers and voice-activated faucets.
The massager — which looks a little like a giant apostrophe covered in smooth, pearl-gray silicone — won an "honoree" designation in the robotics and drones category of the trade show's Innovation Awards.
Alas, the tech bros at the Consumer Technology Association, who organize the show, were majorly unhappy with Lora DiCarlo's use of micro-robotics for better masturbation. They disqualified the massager, citing rules about the product being "immoral, obscene, indecent, profane or not in keeping with CTA's image," before changing course and claiming it just simply could not be allowed in the robotics and drones category. CTA then said the company could no longer exhibit at the show, period.
The decision kicked off a controversy around the tech industry's acceptance of sex tech and inclusion of women, including the sexist foundations of CES itself (the trade show just stopped hiring "booth babes" in 2018, and grudgingly began adding women as keynote speakers around the same time).
Earlier this year, Lora DiCarlo successfully lobbied CES to allow sexual-health technology into the conference and had the company's award reinstated.
Many months later, I received the offending sex toy from the brand. I was immediately floored by its incredible size — it looked like a piece of exercise equipment, with a long stem on one end and a sort of cupping mechanism on the other. Was it a vibrator? A dildo? Could it talk?
I never had a chance to use it, but felt it shouldn't just gather dust in a box somewhere, and so I sent it to a friend. She sent me the following text a few days after receiving it: "Bitch I just had the single most powerful orgasm of my life within seconds." Incredible!
So, congratulations to Cara Delevingne for joining Lora DiCarlo, a sex-tech brand that is really worth its salt. And may everyone treat themselves with gigantic, beautiful, masturbation robots this holiday season.