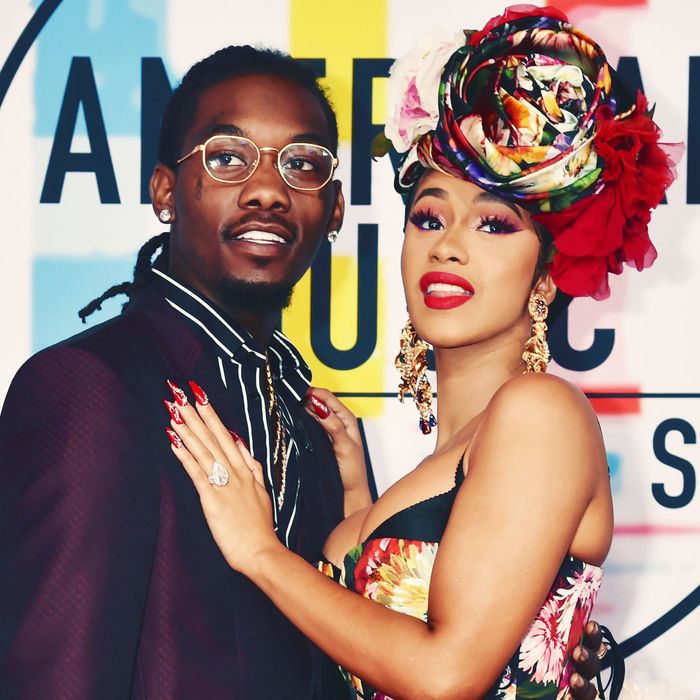 Offset and Cardi B.
Photo: Jeff Kravitz/FilmMagic
Cardi B filed for divorce from her husband, Offset, back in September. Their separation was short-lived. In October, the "WAP" rapper announced on Instagram that she and Offset were back together, and according to documents obtained by "Page Six," on Monday, Cardi filed to dismiss her divorce petition.
"Listen y'all, I'm just a crazy bitch," Cardi said on Instagram in October. "You know how I be arguing with y'all on social media? That's exactly how we are, between me and my man. So when people be saying I be doing shit for attention, with this and that, no, I'm just a crazy bitch."
Cardi and Offset started dating in early 2017, and married in a spontaneous, secret ceremony that September. "One morning in September, we woke up and decided to get married. We found someone to marry us, and she did, just the two of us and my cousin. I said 'I do,' with no dress and no makeup and no ring!" Cardi wrote on Twitter later. (Offset still proposed to Cardi publicly a month later, getting down on one knee and presenting her with a ring during a concert in Philadelphia in October.)
Cardi and Offset welcomed their baby, Kulture, in July of 2018. Then, in December of that year, Cardi announced for the first time, on Instagram that she and Offset were getting a divorce. "It's [nobody's] fault, I guess we just grew out of love, but we are not together anymore," she said in the video.
The announcement sparked rumors about Offset's alleged infidelity, and the Migos rapper quickly and publicly got to work wooing his wife back, even going so far as to crash her history-making set at the Rolling Loud festival on December 15 to apologize and beg her to take him back (a move that many called "toxic" and a form of harassment). The two eventually reconciled, before separating again … and reconciling again.
"I just be starting to miss [him] … It's hard not to talk to your best friend," she told her fans in October. "It's really hard not to talk to your best friend. And it's really hard to have no dick."
This post has been updated.