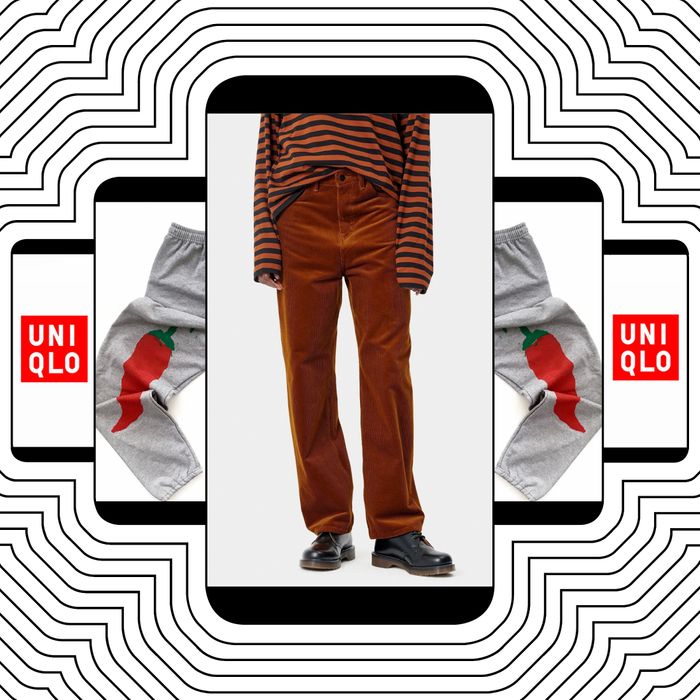 Photo-Illustration: by The Cut; Photos: Uniqlo, Carhartt WIP,Dreem Street
Now more than ever, people are experiencing fashion through their phones. In a new column called "Screen Time," fashion writer Emilia Petrarca shares all the screenshots, double taps, and swipes she made in a given week.
This week, a large percentage of my screen time was devoted to the British royal family — the real one, and the one portrayed in season four of The Crown, which, of course, I've been bing-watching with the ravenous fury of Prince Philip's hunting dogs. Not only has it left me lusting after a Barbour jacket, I'm also now in need of some enormous collars à la Princess Diana, and other kingly clothes, like corduroys.
Below, 12 screengrabs from my royally rabid week in scrolling.
A Pair of Rust-Colored Cords
If you're bored of wearing (and talking about) sweatpants like I am, but aren't fully ready to commit to hard pants yet, I think big baggy trousers are the way to go this winter. Just look at Brad Pitt! But instead of wearing jeans, I'm more interested in corduroys, which I imagine have a similar soft-ness to sweats, but look more elegant. (One of my favorite fun facts is that the word 'corduroy' breaks down in French to corde du roi, which means "cord of the king.") I bookmarked a pair of purple, excusez moi, "boysenberry," pair from Carhartt WIP because I like their color and fit, but they're sold out in my size. So I think I'm going to go for the "brandy" color instead.
A Stylish, Quickly Selling-Out Collab
I have been waaaaaaiting for this collaboration between the British fashion designer Grace Wales Bonner and Adidas to come out, and it's finally here. There's so much good stuff to choose from, including tracksuits, but the Sambas are my favorite. Their crochet and hand-stitched detailing elevates the classic indoor soccer sneaker in a way that I find charming, giving them a casual daintiness. I tried to buy a pair as soon as I woke up Friday morning, but it seemed like I was already too late, so I snagged them from a vaguely German-sounding website I've never even heard of in a panic. They seem to be more widely available now, though.
This Delightful-But-Cool Wedding Dress
Molly Goddard, a British designer known for her punk princess tulle dresses, launched a bridal line this week, as well as a bespoke service. The whole thing makes perfect sense — if you ignore the fact that very few people are getting married in big punk princess tulle dresses right now. But a girl can dream!
A Sneaker Made Entirely of Metal
Wearing shoes is so last year. In 2021, we will display them like objects in a museum, and say things like, "Remember shoes?" This metal Balenciaga track sneaker is proof. It's the first in the brand's new "Objects" line, and was inspired by a bronzed baby shoe keepsake and a Dadaist Readymade. Only 20 are being made, so it's really a sneakerhead trophy.
A Punk Princess Diana Top
I found this funky Miu Miu top while doing my nightly scroll through TheRealReal app this week, and it reminded me of the big collars Princess Diana wears on The Crown (and wore often in real life) — only this one is a little more Black Swan. Please don't buy it before me, thank you.
A Literal Garbage Bag
The perfect bag for 2020, by my new favorite fashion brand, Fashion Brand Company. Their claim to fame is that they are the "first fashion line that is exclusively designed by, run by, and tailored to, lizards." Everything they sell in "human size" is therefore extra-special.
Sweatpants That Sizzle
I was directed to this brand, Dreem Street via a staff gift guide in Dusen Dusen's newsletter this week. Designer Ellen Van Dusen recommended a pair of rainbow trout-print trousers by the brand for the "fish fan in your life," but I personally need these spicy chili pepper sweatpants. Purchased.
A Tragic Return Request Email
It's been almost a decade since the last Jil Sander for Uniqlo J+ collection, and I really wanted to be excited about its return. But after ordering five different things in a mad dash before they sold out last week, I realized that I just wanted to feel alive again!!! Unfortunately, when the pieces finally arrived in the mail, they didn't make me feel the same way. I returned everything.
A Look I Want to Try
It's getting a little too cold to wear shorts around the house, but I was inspired to start wearing knee-high socks while swiping through new collections on the Vogue Runway app. Both Miu Miu and Gucci included them in their resort and spring lookbooks, respectively, styling them with a comfy-looking oversized top. I think it's another good alternative for sweats.
A Photo That Made Me Scream
I have so many questions about Kendall Jenner wearing a head-to-toe 'fit by The Row. First of all, where is she going? Second, have Mary-Kate and Ashely Olsen stooped to seeding influencers? Or did her stylist pull this? Or is Kendall just bored at home like, hm yeah, I think I want to dress like a monk now? My final question is — and I'm sorry — but how do I look like this myself?? Influence is powerful.
A Video That Mesmerized Me
I love watching these videos of Marine Serre's team taking materials already in existence, like carpet in this instance, and upcycling them to create fabulous new looks for each collection. She also regenerated pieces from tablecloths and pillows this year as well. Seeing how they do it soothes the mind.
The Tweet That Made Me Laugh the Hardest
Total Screen Time: 3h 43m daily average.
Down 13 percent from last week!