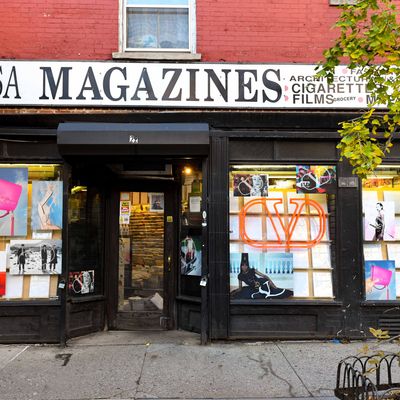 Photo: BFA/Courtesy of Valentino
Over the weekend, when Casa Magazines in the West Village took down the contents of its display windows in preparation for an overhaul, regulars in the neighborhood began to panic. Could it be that the store, which has been on the corner of 12th Street and Eighth Avenue for decades, was finally shuttering? With so many other nearby institutions emptying out due to the pandemic, the thought of losing another was unbearable.
Don't worry, though. Casa Magazines and its longtime owner, "the last king of print," Mohammed Ahmed, aren't going anywhere anytime soon. In fact, the reason for the storefront's face-lift was actually quite glamorous: Valentino has partnered with Casa to promote the launch of its new VLogo Signature Book, which features 16 different interpretations of its logo by 16 different magazines. Posters featuring these creative new graphics will cover the store's façade through November 19, and the books have replaced the former display, which included Rolling Stone's most recent issue with President-elect Joe Biden on the cover.
The last eight months haven't been easy for Casa Magazines. A serious dip in foot traffic in the early days of the pandemic prompted them to start a GoFundMe page, which has raised almost $30,000 since. So, the Valentino the partnership was a welcome one. On top of the display takeover fee, a portion of the proceeds from book sales will be donated to the shop. According to Happy David, who run's the @casamagazinesnyc Instagram account, it's also a way to bring in new customers — and gain some followers. Blogger Tina Leung, for example, recently paid a visit. And David says that Andy Cohen walked by and joked, "What's this? New Valentino??"
In general, reactions have been positive. Mohammad was busy behind the counter on Thursday while longtime employee Ali Wasim modeled some handbags. Neighbors can rest easy — and buy a book!