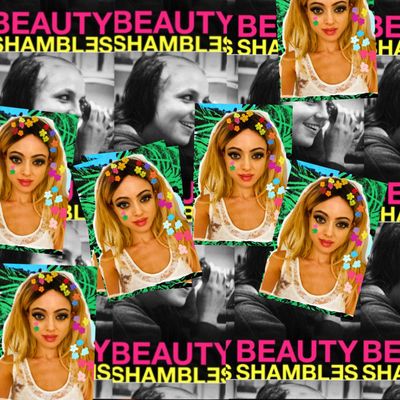 Cat Marnell is writing again. The author and former beauty editor disappeared for several years after her book, How to Murder Your Life, was released. She's spent most of it traveling the world and now, as she settles back into life in New York, she's ready to share her "alternative lifestyle" advice in a new Patreon column, Beautyshambles. (Subscriptions start at $5 per month; for $17, you get monthly phone calls as well.) The first installment is out Monday.
There will be a lot of information about travel (how to find $19 flights to Moscow, public transportation in Medellín, the best red-light districts around the world), tips for home décor, as well as fashion and beauty picks ("edgy sweatpants" and designer eBay deals.) The Cut spoke with Marnell about what to expect from Beautyshambles, her quarantine life, and how to decorate without thinking too hard about it.
Why did you decide to launch this now? 
I've been wanting to do this for a long time. But back in New York this summer, I hung out with Dasha and Anna from Red Scare at this party. I shouldn't say that we were at a party … but whatever, we were at a party hosted by this guy Ben [Mora] — the guy who got fired from the Bernie campaign.
And I'm with Rachel Rabbit White, Gabby Bluestone [who produced the] Fyre Fest documentary, and all these media people. And that's when I had this talk. This talk about Patch— I can't even pronounce it. I say Patrón, like the tequila. Patreon. And finally I'm like, Okay, I'm going to do this.
What can we expect in the first issue? 
My first column is going to be about travel. It's a twist on Emily in Paris, I'm doing Cat in Paris. I watched Emily in Paris, and okay, I actually did like it. People, I'm really not so glamorous. I'm a basic bitch from Bethesda, Maryland. Me and fucking Giuliana Rancic. I could've been Emily but I fucking know better. Anyway, I love France.
I'm going to be telling people about the $49 hotel room I stayed in. You share the bathroom. You can hear these glamorous French girls crying next door, and you can think about the French eye makeup going down their cheeks.
And then I'm going to take you on the ultimate Beautyshambles walk in Paris. I'll take you to a special neighborhood where beauty really meets shambles. You have to go up—you hike Paris. There's no Eiffel Tower. There are no berets. There's none of that shit.
Can you give some examples of the travel advice you're going to be sharing? 
I'm going to be telling people about all of the youth hostels that I stayed in over the past several years. I have been living at least half the time in hostels because I have no money. I'd rather spend $36 a week to be in this disgusting place with 18 bunk beds full of 20-year-olds and have $600 later. My standards of living really dropped into the middle of the earth.
I love a red-light district. If you subscribe to my Patreon, I'll take you to red-light districts all around the world. Some of the grossest places I've ever, ever been. One of them is the red-light district of Frankfurt, Germany. The people were so fucked up. I took mad pictures. You're not supposed to, but there are beauty moments everywhere.
What's the wildest thing you've seen in a hostel?
I stayed in a hostel in South Beach, Miami. I was at my mother's, going out of my mind, and I saw that there was a $20 place, even though I had less than $200. And in the middle of the night these coked-up strippers came in and flipped on the lights. I left, I couldn't stay there. I slept in a tree house that night.
You said there will be a lot of home décor picks "which will NEVER BE EXPENSIVE and will ALWAYS BE DOPE." Can you give some examples? 
I have these two giant foam cigarettes, right? And I got them from the window of the Moschino store because my friend Sabrina works there. They're from when Jeremy Scott did that cigarette-themed show. And they're huge. I have one propped up in the corner. And it's so glamorous — a great example of statement whimsy, which is something that I'll be promoting on my home décor angle of Beautyshambles.
I also found these Britney pussy paparazzi pictures — a series of three different angles that she's getting out of her car with her vagina out.
What's your favorite home décor item right now? 
My favorite thing that I own in the entire world is this Bambi poster.
I got on eBay. It was $6, and it's just white. And a poster is like an art book. An art book is the same price at the top, but as soon it stops getting printed it becomes $200.
So you have that white Bambi poster and an imitation sheepskin rug — because I don't think we should walk on real sheep anymore. And then you lay on that sheepskin rug and you have all these LED lights around you and the perfect stack of magazines. That's cheap, and that's better than all this bullshit fucking Crate and Barrel.
Do you frame the posters?
Everything I've had framed falls down and breaks immediately. I'll never spend that money again. That's bullshit. I hate these framing places. They fall off my wall, immediately they break, and I'm livid forever.
What's your decorating philosophy? 
It's just like putting on eye shadow. I don't give a fuck. You just mess it up. With a poster — you just put it up. You don't think too hard. And then you put up more! That's how I decorate. Nothing is that serious. No! We're messing everything up.
I like a high and a low. And I mean really low, like really cheap. I want to give people a taste of that downtown loft. That means I hate all of this fucking furniture people have. I don't know if it makes sense to spend $360 on a West Elm chair. If you have that budget, why not get a really amazing, unique vintage piece for the same price?
And I want everything to be special. I'm in a small home. Why should anything not be special? Everything has a face, a cute face. I want my knife to have a little blue penguin face on it. Why not? I have to look at it.
You'll also be getting back into beauty recommendations. What's your favorite product right now? 
My number one product is always going to be prescription Retin-A. I once went to Mexico just to get retinol.
While I was travelling, I just had these dirty Ziploc bags full of makeup. Travel makes you really weird … I used bar soap for three years. I sometimes washed my face with dishwashing soap. I tried to buy some new makeup recently, but they don't let you touch anything in Bloomingdales. So you're pulling down your mask so someone can quickly look at your skin and guess what Charlotte Tilbury foundation you are. A nightmare, a nightmare!
How has your quarantine been? 
I've been in good spirits. I went through a little depression. I had three straight weeks where I just watched Joe Budden. But I love the city right now. I think it's really weird and cool. I was in New York after 9/11, and I was just a teenager, and New York was a spectacular place. All of the post-9/11 nightlife that people talk about so famously — which eventually turned into the Chelsea nightlife, the Olsen Twins era and Lindsay Lohan and all of that stuff. I just know that the city is going to pop off.
What's your goal with the column? 
I just want to be funny and casual. I miss beauty. I was so sick of just talking about drugs. If I knew in 2011 that I would have had to talk about my addiction for the next nine years, I never would have said a thing. I'm just so over it, I don't have an interesting thing to say. I'm all of these other things.
And sometimes being the star of The Cat Marnell Show … that's sort of why I think I ran away for three years after the book came out, all of that press and attention. But I kept a quote close to my head always: "Don't write so the world can see you, write so you can see the world." And that's what I did. And now I want to show people all these different things. But really, it's just gonna be fun, it's not that serious.