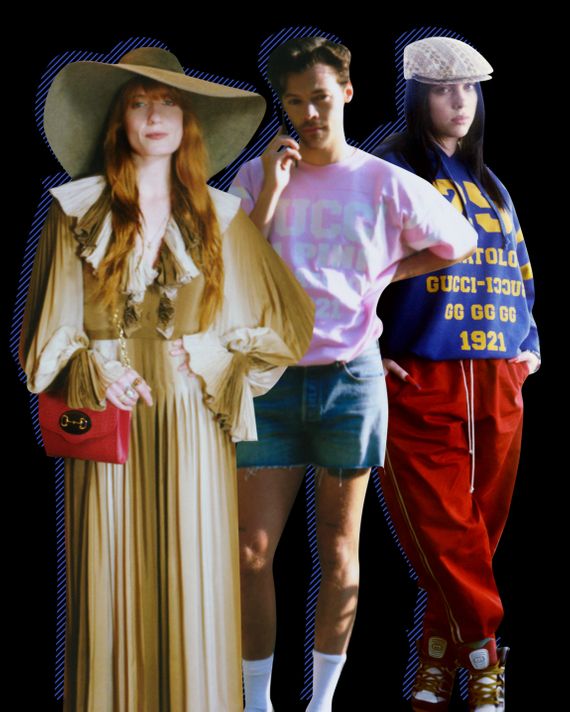 Ouverture of Something That Never Ended — a title that requires scaffolding — consists of seven short episodes using a day-in-the-life formula, the day belonging to a will-o'-the-wisp actress named Silvia Calderoni. Set in Rome and co-directed by Gus Van Sant and Gucci's Alessandro Michele, Ouverture features cameos by, among others, Billie Eilish and Harry Styles. There's little dialogue, and much of it is doggerel ("Your body is like a pearl" is a gem). Although many of the scenes are beautifully and simply shot, especially those set in Calderoni's flat and among Rome's monuments, the film is largely a vehicle for Michele's latest collection and his message of love. In fact, it was on the back of a football jersey: "Blind for love."
Because of the pandemic, many designers have sought to break out of their routine this year — Demna Gvasalia with a video of Balenciaga models in nighttime Paris, Jonathan Anderson with a portfolio-size book of images for Loewe. Indeed, the desire to transcend the limits of the runway has been strong for a while, and we have seen some extraordinary efforts, like Marc Jacobs's collaboration in February with Karole Armitage. Michele's project is by far the most ambitious: an episodic series involving a major director and two pop stars, aimed at the 41 million followers of Gucci's Instagram.
For several reasons, the series doesn't work. It needs a stronger story line, a real story, something that might actually compel you to check out the next episode rather than simply wait for it to pop up on your feed. (I noticed the number of views had dropped sharply by the last episode, though they soared again for Eilish's segment. Well, why not?) Styles and Eilish seem, on the whole, detached from the rest of the action, two satellites orbiting the Earth. And Styles, dressed in cutoffs and a pink Gucci top, has a silly bit of dialogue about art. Calderoni is the most striking individual in the film — catlike and of vague gender, she looks marvelous in all the outfits and accessories she wears, particularly a black tulle jumpsuit in the opening scene, aviator glasses, and a men's three-piece suit in the closer.
Ouverture also lacks humor, unless you count the robotic dogs — the work of Boston Dynamics — that scamper around Eilish. Or the sight of Van Sant himself stepping out in a loud plaid suit. The pandemic is hardly a moment for mirth, but wit and irony are rarely Michele's thing. In fact, much of the industry has a problem with funny.
Maybe what really hobbles this project is the very thing that makes it possible: Gucci's brand power. Everyone and everything, including an interesting script, has to bend to that.
Of course, making a movie or a series like The Crown is an altogether different business. It takes months to develop a script and create wardrobes. Based on what Michele and Van Sant said at a recent press conference, they had a month or so to put everything together with about two weeks for filming. And good designers are always mindful of the moment. That's why Michele simplified his designs this season and actually repeated some styles from his first Gucci collection from 2015. People are still likely to be at home for a while. By the same token, he can't design stuff that's too far ahead, as he would have to in order to suit the production schedule of a film.
Still, Michele was right to take a risk with his movie. There's a lot of potential in the episodic format, Van Sant said at the press conference. Oddly, while watching the series, I thought not of The Crown but I May Destroy You, by the electric and mouthy Michaela Coel, and Fleabag. Half the thrill of those shows is the sharp, brisk dialogue matched by a very cool, tossed-off sartorial style. If a designer brand had some of that verve in a film, even a small film, with an emphasis on story, I'd watch it — and I might just click on the products if they were embedded.
More Spring-Summer 2021 Reviews by Cathy Horyn
See All