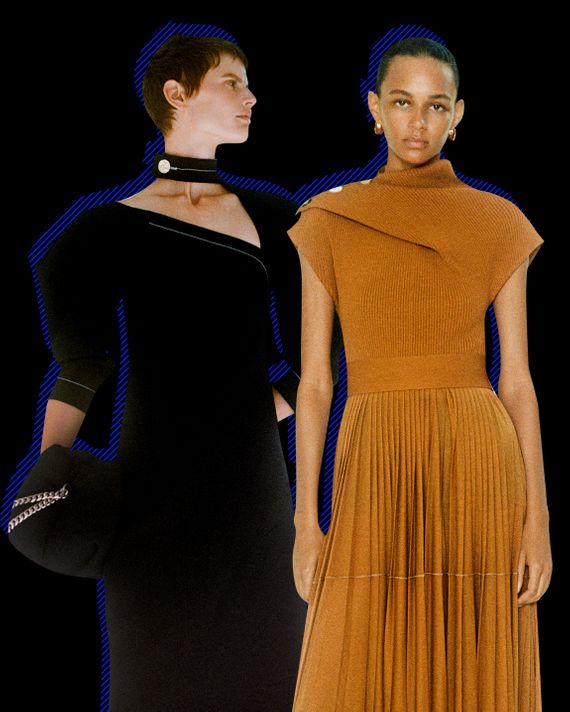 Photo: Courtesy of Proenza Schouler
It's possible that the spring 2021 Proenza Schouler collection — released in the East on this soggy, post-election day — is the best thing the designers Jack McCollough and Lazaro Hernandez have done in a while. It's certainly the clearest statement of what they're capable of, even a template for future designs. What's gone, I would say, is runway humbug — the overly complicated shapes, the trendy styling, the art-world references. Go back and look at their last few shows, and that's what stands out. Locating an honest point of view and a genuine sense of intention is much harder.
Like many designers this season, Hernandez and McCollough scrapped a show and instead produced (with the art director Peter Miles) a hard-bound book of editorial images (the work of Daniel Shea), for a total run of 1,000 copies. The images of New York are of apiece with the clothes: the long and lean silhouette of sweater looks; the urban finesse of well-cut pantsuits (made fresh in sky blue or pale pink); the versatility of fitted tunic tops that can be worn with trousers or a soft skirt; a pair of track pants that coyly morphed into a cool strapless jumpsuit.
"For us, it was a creative breakthrough," Hernandez said last week in a Zoom call with McCollough, who added, "There was something really freeing about knowing we weren't going to do a show." The designers largely used available fabric stock. That's one reason the collection felt not only more focused but also more realistic. They eliminated many of the hard edges of their previous collections. The upshot were silhouettes that felt more relaxed and natural, verging on a new minimalism for McCollough and Hernandez.
They also seemed to drill down on what their customers may want next spring — comfort, sure, but with an element of chic and self-reflecting humor. One answer is a plain and gorgeous ankle-length dress in pale pink jersey with a loose, drawstring waist. I also appreciated how the Proenza guys ticked off the items in a wardrobe — an easy raincoat, a keyhole-back, beautifully done T-shirt, those classy pantsuits. That's not something they've done in the past — or, if they did, it was hard to notice. But that, too, provides a good path forward.
More Spring-Summer 2021 Reviews by Cathy Horyn
See All