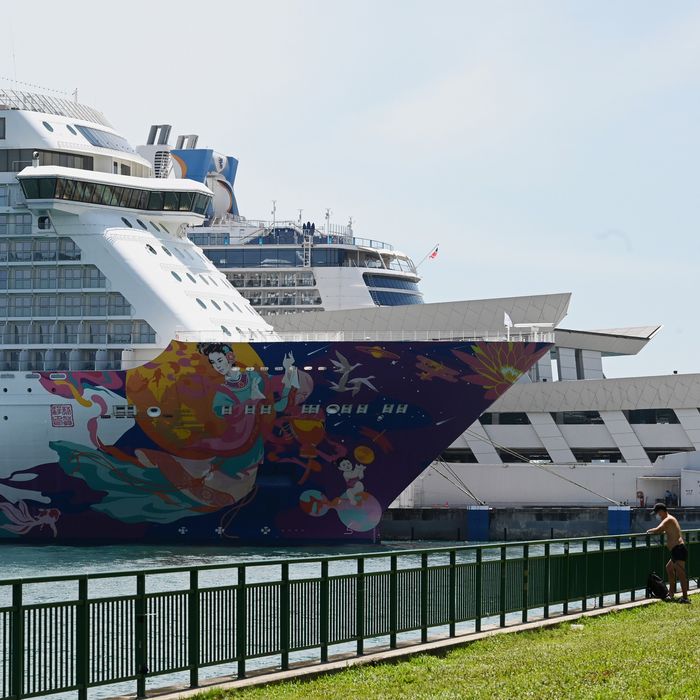 Photo: Roslan Rahman/AFP via Getty Images
After nearly a year of collectively dealing with a deadly virus that spreads most readily in small indoor spaces like, say, the belly of a ship, companies operating cruise lines are still planning trips. Tourism-based travel isn't up and running yet, but the U.S. government is technically allowing cruise ship companies to operate out of the country's ports.
This is a lot of mixed messaging for people who want to meet their soul mate playing canasta in a floating hotel while wearing the Mickey Mouse ears, so the Centers for Disease Control wants to be clear that, although it lifted its full ban on cruises last month, "all people [should] avoid travel on cruise ships." Cruise-ship travel is henceforth classified in the U.S. as "Level 4: Very High Level of COVID-19." If you are planning to get on a cruise ship as soon as humanly possible, the CDC advises that "for most travelers, cruise ship travel is voluntary and should be rescheduled for a future date." The CDC also recommends that anyone who decides to go on a cruise anyway get tested three to five days after the trip and isolate for seven days after the trip even if the test comes back negative.
At the end of October, amid another surge of COVID-19 cases, the CDC lifted its ban on cruise ships sailing in U.S. waters. The order laid out a series of safety precautions cruise lines must adopt — such as screening staff for the virus and running successful test voyages — before they are given the green light to facilitate tourism again. The majority of large cruise companies have canceled trips in U.S. waters through at least the end of the year, CNN reports.
Time and again cruise ships have been well-documented centers of COVID-19 outbreaks. Earlier this month, cruise company SeaDream reported that the coronavirus had spread on the first cruise ship to set sail in the Caribbean since the start of the pandemic. Seven passengers and two crew members tested positive, prompting SeaDream to shut down all its planned cruises. The Miami Herald reports that no government or independent agency is gathering publicly available data on cruise ship outbreaks, but their own analysis indicates that 3,908 people have contracted the virus on a cruise, resulting in 111 deaths. At the same time, the Herald reports that in South Florida alone, the ban has left thousands of people unemployed and living off of government assistance of $275 per week at most.