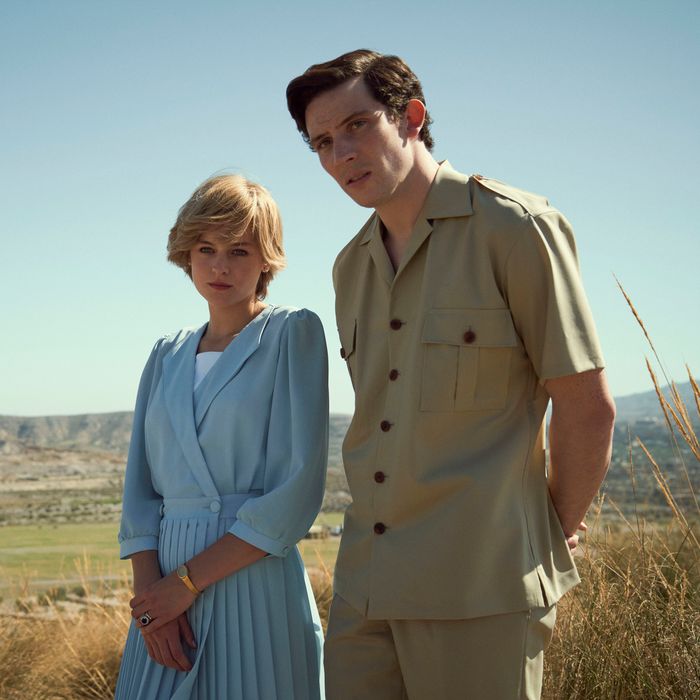 Photo: Des Willie/Netflix
As longtime fans of The Crown know, it's more of a slow burn kind of show. It's grey. There's not that much kissing. And there are so many animal metaphors (all courtesy of these long, chilly hunting scenes). It's a captivating show, but one wouldn't necessarily call it thrilling.
Season four is a welcome departure. While there are still a handful of lengthy forest interludes, it dials up the drama and tragedy, moving at a faster and more riveting pace than previous seasons did (aided by a cool eighties soundtrack). And we finally meet Diana Spencer, who is played — perhaps, the proper word is inhabited — by Emma Corrin. Historical dramas can sometimes feel like the actor is doing a really affected impression; Corrin, though, occupies Diana in a way that's almost eerie. She replicates her voice, postures, and mannerisms, and deploys Diana's voluminous blonde fringe to shield or reveal her face as needed. More than that, though, it's watching her privately battle her demons that's so compelling: the rapid, chaotic escalation of her eating disorder, her rage over her husband's infidelity, and the excruciating loneliness she radiates even in rooms full of people.
But at the heart of the show is the fraught, tragic relationship between Diana and Charles, played by Josh O'Connor. There are perhaps two tender moments between them throughout the entire season; the rest is screaming matches, manipulation, and several desperate attempts (mostly on Diana's part) to salvage some love in the relationship. Charles, who finished season three as a sympathetic character, is an absolute menace, growing increasingly self-centered and insecure as Diana proves to be more popular than him. But they're doomed from the get-go, a fundamental mismatch with a 13-year age gap, and the whole situation is only made worse by Charles's adulterous relationship with Camilla Parker-Bowles, played by a deliciously wicked Emerald Fennell.
On top of that, there's the tense dynamic between Gillian Anderson's Margaret Thatcher and Queen Elizabeth, played by Olivia Colman. Pitting these two complicated, deeply flawed, and powerful women against each other — not as enemies, but as foils — starkly reveals the royals' immediate disdain for the lower class and helps comment on the broader class struggles being felt in England at the time.
Like the royals themselves, The Crown usually stays mum on current events, but longtime viewers will be surprised by an episode that focuses on a young Prince Andrew — now infamous for his lengthy friendship with the disgraced pedophile Jeffrey Epstein. In one scene, he describes to his mother a film in which his new girlfriend recently starred, which "follows an impressionable, nubile 17-year-old girl" who meets "several twisted and perverted older predators" who then "seduce the vulnerable, helpless" young woman and "[induce her] into sensual pleasures." The Queen asks if the film was legal, and Andrew responds, "Who cares?"
If you've never seen The Crown and think it's not for you, this would be a good starting point: It retains much of the tone of the first three seasons — endless, gloomy days; emotional repression; dour hunting scenes — but plunges beyond that, becoming a genuinely captivating psychodrama.