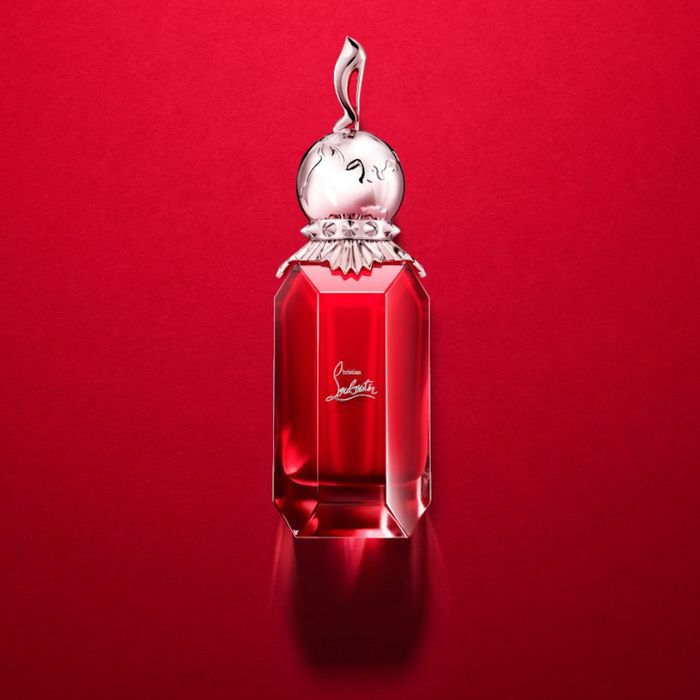 Loubirouge Eau de Parfum.
Photo: Christian Louboutin
If you've always wanted to smell like a shiny new pair of red bottoms that have yet to meet two sweaty feet, you're in luck. Designer Christian Louboutin just launched Loubiworld, his first-ever collection of fragrances, and yes, the iconic, expensive heels are involved.
The line is comprised of seven unisex fragrances that live in bright, Louboutin-red bottles topped with ornate caps. (Any of them would be an excellent horcrux, if you're in the market for one.) There's Loubicroc, Loubifunk, Loubiraj, Loubikiss, Loubidoo, and Loubicrown, though Allure reports that the scent Loubirouge in particular is Louboutin's "true incarnation" of red-bottom wearers.
Martha Stewart's red-bottoms definitely smell like Sharpie, but apparently unaltered Louboutins smell more like "a cabaret and a sensual wake of cardamom, iris and vanilla leading you into glamorous Paris." If notes mean nothing to your nose, the designer tells British Vogue that Loubirouge also smells like "the scent of a Parisian woman who doesn't want to reveal the fragrance she's wearing," which sounds like something the mysteriously-scented Rihanna would approve of.
If you want people to actually know what you smell like, Louboutin's got you covered there, too. Each fragrance is uniquely distinct from its siblings: Loubifunk is a floral rose, Loubidoo is fruity, thanks to a hint of strawberry, Loubicrown is forest-y, Loubiraj is leathery with notes of suede. Regardless of which route you take, your nose is in for a trip. The designer tells Allure the fragrances "are based on dream worlds, erasing the frontier between reality and imagination." Basically, any of the seven should pair nicely with all the legal weed and shrooms, as evidenced in the video below.