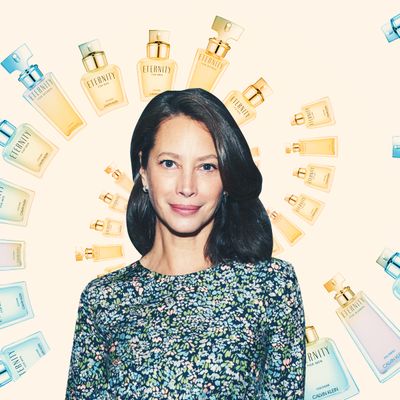 Christy Turlington.
Photo: Getty Images
Scientific studies confirm that of all the senses, smell offers the best recall. In Scent Memories, the Cut asks people about the scents they associate with different times in their lives.
Next up is Christy Turlington, supermodel, maternal-health activist, and the returning face of Calvin Klein's "Eternity" fragrance franchise. After starring in the original Eternity advertising campaign in 1988 and reprising her role in 2014 and 2016, Turlington is back with her husband, filmmaker Edward Burns, to star in the latest campaign. It features two new fragrances: Eternity Eau Fresh for her, a playful blend of pear, black currant, peony, and patchouli, and Eternity Cologne for him, a crisp blend of ginger essential oil, juniper berries, lentisk, and moss. The Cut caught up with Turlington to talk peonies, pupusas, and Boston Terrier breath.
My first scent memory is: Fresh-cut roses from my grandmother's garden. I spent a lot of time with my paternal grandmother when I was small. She had an orchard in her backyard that I would play in all day, climbing apple and persimmon trees, eating tomatoes off the vine, and picking roses from her thorny garden. She would tell me they smelled just like English tea. She also had a special rose soap that smelled almost as good that she let me use.
Happiness smells like: Horses. I grew up riding and spending long days at the stables. When I think back to my days as a young girl, before I started working, it was when I was riding my horse in an open field. Horses have a salty smell after a long ride. I grew up in northern California where you could also smell eucalyptus in the air on hot summer days.
Love smells like: Peonies, my favorite flower. We had huge peony arrangements at our wedding, and it's the flower Eddie gives me on our anniversary or my birthday.
Heartbreak or loss smells like: Salt water, because that's what tears are made of, so that's what it smells like to me. Loss can also smell like a hospital; sterile and pungent.
Friendship smells like: Fresh air. Most of my friends are pretty active, and we love and appreciate nature, now more than ever. We take beach walks, run or hike together while we talk and share, surrounded by fresh air.
Success smells like: Sweat, because when you work hard, you sweat. When I cross the finish line of a race, it smells like sweat. When I gave birth to my kids, sweat.
Regret smells like: A burned matchstick, which is totally the first thing that came to mind. Regret is like a flame going out. It's almost like the smell of sulphur, I guess.
The worst smell is: My Boston Terriers' gas. I guess it's a breed thing because they have really healthy diets, but it really can make your eyes water sometimes.
My favorite food smells like: Pupusas. They comes from my mother's birth country, El Salvador. They smells like fresh tortillas heated on an outdoor grill. They are essentially a thick griddle cake or flatbread made with cornmeal and stuffed with different things like white cheese with loroco (an edible flower from the region), beans, or pork. You put a kind of slaw called curtido on top, and it's the most delicious thing on the planet when made fresh.
My ideal vacation smells like: Eucalyptus and jasmine. That could be in the form of a spa anywhere, or a place where it grows wild and where you can hike or walk through a forest of it.
My home smells like: Nag champa incense, which is made of pine and cedar and sometimes cardamom, vanilla, and black pepper. I love this smell because it reminds me of India, and it's super calming because I associate it with yoga and meditation. I brought a bunch back from India and burn it all the time at home.
The last thing I smell at night, and the first thing I smell in the morning is: My dogs' breath. I have two Boston Terriers who sleep in our bed with us. One curls up on the pillow by one of our heads and the other on top of the duvet behind someone's knees. They wake us up every morning with a lick to the face.
A scent or smell that I love that others usually don't is: My dog's breath. I think you have to love a dog to love its breath. My immediate family all agree and can tolerate it, but others would likely not agree.
I smell like: Eternity Fresh, so technically, a mix of peony, rose, jasmine, pear, black currant, bergamot, amber, patchouli, and musk.