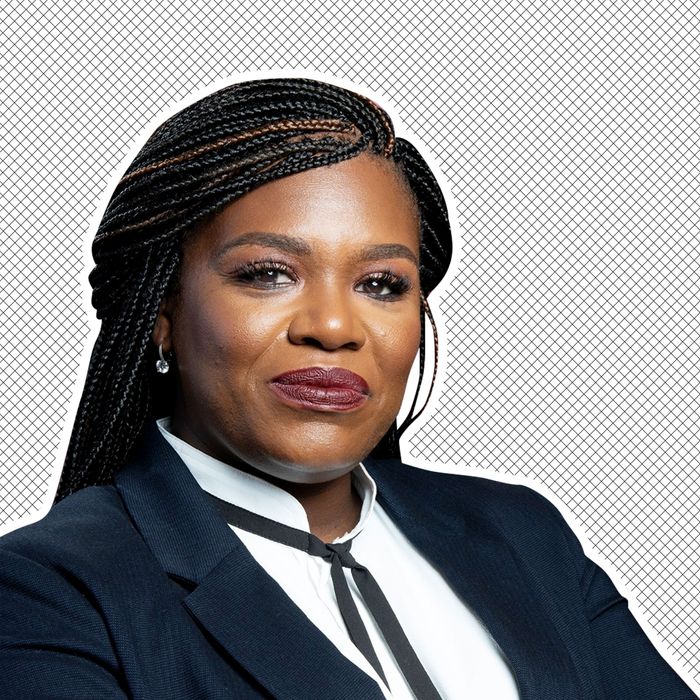 Photo: Cori Bush for Congress
When Black Lives Matter activist Cori Bush won a House seat in Missouri this November, she went from being a "regular person" — as she describes herself — to someone who needed a uniform fit for the Hill. "It's really expensive to get the business clothes I need," she wrote in a tweet on November 11, shortly before congressional orientation.
Bush, the first Black woman to represent the state in Congress, has a background as a nurse and a pastor. Her first paycheck wasn't coming until the end of January, and she had already spent months without income on the campaign trail. "So I'm going thrift shopping tomorrow," she wrote. "Should I do a fashion show?"
Her tweet quickly went viral. Fellow congresswomen Alexandria Ocasio-Cortez, Rashida Tlaib, Ilhan Omar, and Ayanna Pressley all chimed in, each offering support and tips. Ocasio-Cortez herself has spoken about the hidden costs of dressing for D.C. in the past. "There's so much pressure to present ourselves in the world a certain way, and, sometimes, that means looking a lot more expensive than what you can afford in a moment," she told Elle in 2018, adding that she was a "thrift-shopping queen."
Bush says she has been thrifting her whole life, and, by the look of things, she has become quite good at it over the years. She has a strong sense of personal style and often wears statement T-shirts and face masks to send a message, along with shiny footwear. But her tweet is about so much more than shopping secondhand. The Cut talked to her about mixing personal style with politics.
What was going through your mind when you wrote that tweet?
I was thinking, I'm pissed off that I don't have what I need, and I don't have the money to be able to get what I need. I thought there are probably a bunch of people who feel this way too. So I just wanted to put it out and be transparent because it's a real issue. I'm okay with addressing it if it helps somebody else to know that some of us going to Congress are just regular people.
Were you surprised by the reaction?
I was absolutely surprised. It blew my mind. If anything, I was expecting to be a little more attacked. And it wasn't attacks; it was people sharing how it made them feel seen. A lot of people reached out wanting to help.
Your fellow congresswomen reached out. Did that Twitter conversation lead anywhere?
Yeah, we're going to have a shopping day. We just haven't figured out what day it's going to be yet. We're working on it. It's going to be great. [Laughs]
Do you have a background with thrifting? In your experience, is there a stigma attached? 
I've been going to thrift stores my whole life, since I was a kid. I've used it for housewares, for furniture, so many things. I've even used it to buy a Christmas tree! We needed a Christmas tree for my campaign office one year, and I went to the thrift store. [Laughs]
My kids thrift now too. They're 19 and 20, and they'll go to thrift stores. Generally, it's Plato's Closet. But my daughter called me recently from a Goodwill. She'd just moved into her own apartment, and she was like, "Mom, which thrift store should I go to to get a microwave?" [Laughs] Even though my children like name brands and this and that — like my daughter has to have all the new Jordans — they will thrift.
We're at the point where thrifting is better for the planet, and it's a way for people to be able to get the things they need. Especially now, with so many people struggling with this pandemic. The stigma isn't as great, because so many people are struggling.
In one of your tweets, you touched upon how what you and other congresswomen wear to the Capitol can make headlines. What's your approach to talking about style? How do you balance expressing yourself and talking about what's important to you?
It's both. First of all, I love style. I love clothes. I love to shop. I love shoes and jewelry and all the things. So to talk about something that I love is great, but it's also great to be able to help people see that they can do it within their means and be comfortable and still show their own personality. Maybe not to the scale that you may want, but it's a place to start. You may be able to buy three suits but not eight.
In terms of headlines, though, how do you drive the conversation?
I'm hoping that people will look at [my wardrobe] and ask, "Is this from a thrift store or not? Because she still looks nice." So then that will help remove some of that, you know, "Oh, she got it from a thrift store," because you can't tell! I hope that's where we land. I love when people try to figure me out. I could have paid a decent amount of money for my pants, but my shirt could be $30 from the thrift store.
I saw that Christian Siriano and Jason Wu reached out about dressing you. Would you take them up on that?
Because I've been so busy with orientation, I haven't seen a lot of the messages yet, but I did hear about Christian. We received thousands of messages, but our team is going to reach out. I would love to work together. I've been following his work since Project Runway. His hair was always fly. [Laughs] I remember him from that, and I was so glad to see how he took off after the show. To hear that he reached out was wonderful.
In figuring out how you want to dress for Congress, are you looking at anyone else, past or present, for inspiration? 
I don't really have anyone I look to in terms of style. I like lots of different things that people do at different times. I'm not very connected to designers. I've never really had the means to shop designers, necessarily. The stores that I would frequent are Express, New York & Company, White House Black Market, even Banana Republic and H&M. Sometimes Macy's. When I'm super-splurging and feel like I have some money, I may get a dress out of Nordstrom, but that's few and far between. I'll get something from those stores, but I'm going to look for the edgiest thing from those stores.
Did anyone or anything from your past inform your style at all? 
As funny as it's going to sound, I first woke up to style when I was watching Grease 2. I had to be around 6 or 7, maybe even 5, and I saw Stephanie (Michelle Pfeiffer) with that dang Pink Ladies jacket, and I was just done. It wore me out. Ever since then, pink has been my favorite color. And then I saw the original Grease, and I was like, Oh my gosh. Olivia Newton-John in that black outfit with those pants and those heels! From then on, that has been my thing: some class, but edgy. [Laughs]
You've also been using style to send a literal message through your face masks and T-shirts. Is that something you're thinking about when you make a public appearance? 
Absolutely. I believe that I have a bullhorn, even if an actual bullhorn is not in my hands. If we have this platform, we need to use it, because there are so many people who wish they had the opportunity to get their message across. Whenever I can, I'm putting out a statement. I feel like we only have a short time to make a big difference, so I'm going to take every single opportunity I can.
And do you have a first-day outfit? Have you been planning that out?
Oh yes, my cousin is making it for me. She made my dress for Election Night.
Can you share what it looks like?
Oh nooo. [Laughs]
This interview has been edited and condensed.