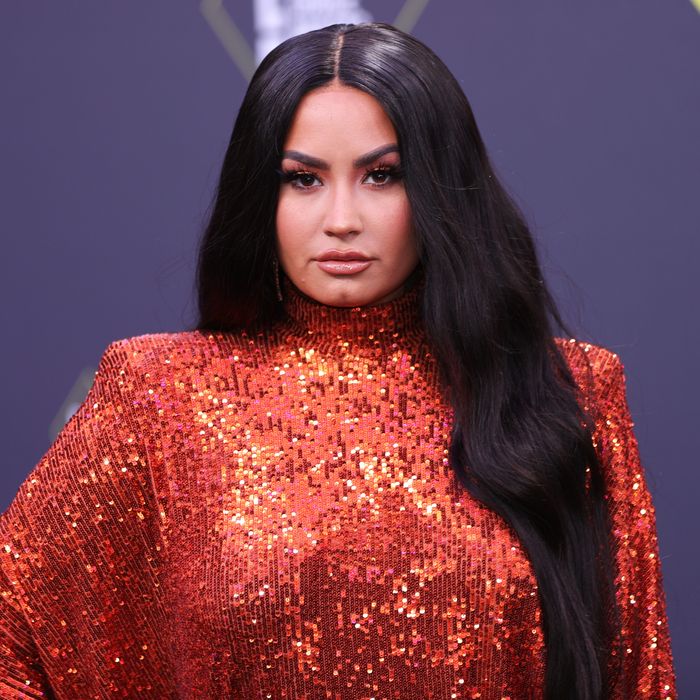 Demi Lovato at the 2020 E! People's Choice Awards, wearing long hair.
Photo: NBCU Photo Bank via Getty Images
The best cure for a breakup requires two steps. First, you talk to some aliens in the desert, then, you schedule the requisite post-breakup haircut. A month after successfully completing the first step, Demi Lovato has officially checked the second off her list following her breakup with her now ex-quar fiancé, Max Ehrich.
Yesterday, the singer posted that she "did a thing." That thing was transforming her previously medium-length dark hair into a blonde, half-shaved mohawk with an undercut.
The transformation was achieved with the help of Amber Maynard Bolt, who cut and dyed, and Paul Norton, who sculpted and styled the new look for its Instagram debut. People reports that the total transformation took two days to complete. In the comments, Lisa Rinna reports "SHORT HAIR DON'T CARE" with the raised hands emoji and the red heart emoji. Fellow short-haired famous person Ruby Rose also voiced support of the new look in the comments, as did Lucy Hale, Kerry Washington, Ashley Graham, and Gabrielle Union.
New hair reveals are always fun, but this one makes an especially good before-and-after considering Lovato just hosted Sunday's People's Choice Awards in long, center-parted, waist-skimming wigs with waves that are very much the opposite of this new look. E! reports that during the show, the singer also revealed that in addition to getting "un-engaged," and "looking for aliens in the desert" in quarantine, she "reached the end of Instagram four times" and "binged seven seasons of Pretty Little Liars," so don't worry, she's doing great. Can't wait to see what Demi and this new 'do get up to for the remainder of 2020.