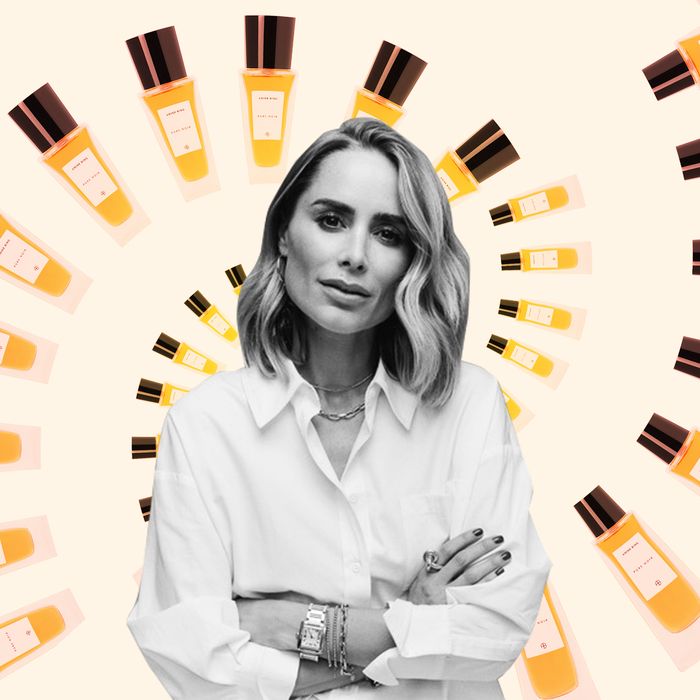 Photo: Courtesy of Anine Bing
Scientific studies confirm that of all the senses, smell offers the best recall. In Scent Memories, the Cut asks people about the scents they associate with different times in their lives. Next up is Anine Bing, former model and designer of an eponymous line. Bing was born in Denmark, raised in Sweden, and now lives in L.A. Her designs have been seen on Rosie Huntington-Whiteley, Emma Roberts, and Jessica Alba. She is also the front woman for the band Kill Your Darlings. The Cut caught up with her to talk about her first-ever fragrance launch, the smell of Danish ocean-beach roses, and new car smell.
My first scent memory is: Ocean-beach roses — they grow on the beach in Denmark. When I was there this summer, I emailed my perfumer to ask, "What is this beach rose in English?" It's something I want for my next perfume. It has a rosy scent, but there's something different. It's both a little sweeter and a little saltier.
Happiness smells like: Freshly brewed coffee in the morning, around 5:30 or 6 a.m. I feel happy going into my kitchen and getting five minutes to myself. I have one of those Nespresso machines, so I add a little oat milk and collagen powder. I also love French-press coffee with just a teeny tiny bit of milk.
Love smells like: Excitement, butterflies, newborn babies. When I held my babies for the first time, there was the smell of newborn-baby head. It smells fresh and pure, like butterflies in the tummy and baby powder (even though we don't use it).
Friendship smells like: A skinny, spicy margarita. It's tequila with a little bit of lime, sparkling water, and then salt and Tajin on the rim. When I'm in Mexico with family or friends, we love the margarita.
Heartbreak or loss smells like: Salty tears and emptiness.
Regret smells like: Wine. The next day I have a headache and anxiety.  Wine is a no-go for me. That's definitely regret.
Success smells like: Our new scent, Pure Noir. It smells empowering to me because I feel like I can take on the world when I wear it. It's a beautiful mix of baccarat rose, nutmeg, black pepper. It also has saffron and oak. It's a blend between feminine and masculine.
The worst smell is: When people wear too much perfume. I don't like when it's too intense and people spray it all over. Perfume shouldn't take over the whole room.
My ideal vacation smells like: Oceans, salt water, and sunscreen. I love a beachy vacation, the ocean, and getting tan. My dream is Bora Bora. As soon we are able to travel, Bora Bora is my next dream stop.
My home smells like: Fresh roses — white roses, only. I love white roses; I think they're crisp and clean. When we're in the office, I always have them on my desk. We are also now burning our Pure Noir candle, so it's a mix of florals with the more mysterious smell from the candle.
The first thing I smell in the morning: My kids, when I kiss and cuddle with them in the morning.
The last thing I smell before bed: Essential oils. I love rose oil, lavender oils, and different cream and serums. After I wash my face, I put on beautiful creams. I love La Mer right now.
A scent or smell that I love that others usually don't: I love the smell of  a new car. Everything is so new and clean, before the kids make it a mess with snacks. I also love the smell of leather. When I work in the design studio and get all the leather swatches, I love the smell of that.
Photo: Anna Maria Zunino Noellert
Every product is independently selected by our editors. Things you buy through our links may earn us a commission.