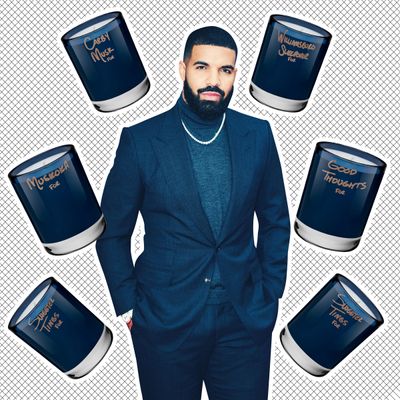 Drake and his soy wax scented candles.
Photo-Illustration: by The Cut; Photos: Getty Images, Revolve
Over the summer, Drake posted a picture to his Instagram Stories. Not of his Swarovski chandeliers, nor his erotic watch, but of some cozy candles. "Available soon," the caption told his 72.5 million followers. Well, it's November, and we've gotten another candle from Gwyneth, $5 candles from IKEA, and a whole candle line from Sir Anthony Hopkins, but haven't heard much on the Drake Candle front. 'Tis the season of cuffing, hygge, and unbridled shopping, the perfect conditions for purchasing candles from a man who isn't afraid to feel feelings, so one must ask: Where are the Drake Candles?! Here's what we know about the rapper's mysterious fragrance business so far.
When did the Drake Candles first appear?
On June 16, 2020, Drake posted an Instagram story of four blue candles sitting on a counter. The text simply read: "@betterworldfragrances Available soon cc:@ovoniko." OVO Niko is the member of Drake's entourage in charge of merchandise for October Very's Own, the Toronto-based record label Drake founded, but Better World Fragrance House is its own thing, complete with an Instagram account with 24,200 followers and zero posts. The account only follows Drake (@champagnepapi) and Drake Related (@drakerelated), Drake's official website where you can click the candles in the corner to be taken to BWFH's extremely blue website.
A month later, the Drake Candles started decorating the NBA Bubble in Orlando, Florida. Drake, the benevolent Toronto Raptors brand ambassador he is, gifted various candles to players, each votive labeled with their nicknames, which was very cute.
Who is helping Drake make these candles?
According to a September episode of Revolve U, perfumer and air care fragrance expert Michael Carby of the fragrance house Givaudan. Carby explains that Drake invited him and a team to Toronto, where they discussed the similarities between writing song and building fragrances (music chords versus fragrance accords). Apparently, one of the first fragrances Drake ever wore was created by none other than Carby himself. Kismet! Carby also mentions new technology he helped develop to keep fragrance molecules in the air longer, a feature that will be in every Better World Fragrance fragrance, which will probably go beyond candles. Like Drake, the candles are made in Canada, and Revolve relays that Midnite's Live In Eugene album is what inspired Drake to make candles in the first place.
How many Drake candles are we talking about?
There appear to be at least five soy wax blend candles in existence: Carby Musk, Sweeter Tings, Williamsburg Sleepover, Muskoka, and Good Thoughts. They are housed in blue glass, labeled with gold, handwriting-looking script. The word "For" is underneath each name, so you can personalize the candle using the gold marker it comes with, just like Drake did for all his basketball friends.
Where are Drake's candles currently living?
Secretly on Revolve, it seems. According to Michael Carby's page on the retailer, the candles are set to launch "this holiday season," but the fragrance house partnered with REVOLVE U to "offer a limited sneak peak of the candles" … which seems to have expired. Carby Musk is still up on the retailer's website (albeit with a sold out sign) and if you search the other candles manually they'll pop up too, but with the same sold out sign.
What do they smell like?
I'll let the Revolve product page descriptions speak for themselves:
Carby Musk: "Smooth musk fragrance is introspective as in an interpretation of your beautiful self, yet extrovertive as how you would want others to see your bold and brilliant self. Features notes of Musk, Ambers, Cashmere, Suede, and Velvet. Actually smells like Drake — it's the personal fragrance he wears, which inspired BWFH."
Williamsburg Sleepover: "A genderless and luminous floral-woody musk fragrance that captures the essence of an urban garden under shaded lights. Features notes of Rose, Lily of the Valley, Vetiver, Amber, Musk, Patchouli, and Cedarwood."
Muskoka: "Oriental Woody fragrance that emulates the smoldering warmth of burning woods, golden embers, and the feeling of being cozy by the fire. Features notes of Birch Tar, Fresh Clove Buds, Cedarwood, Sandalwood, and Smoked Leather Accord."
Sweeter Tings: "An addictive and nostalgic Oriental Gourmand fragrance with the subtleties of comfort and goodness. Features notes of Bergamot, Lemon Peel, Dark Voodoo Rose, Warm Cedarwood, and Soft Musks. Soy wax blend."
Good Thoughts: "A bouquet of rich florals surrounded by a vibrant bright light of freshness for a captivating positive energy. Features notes of Fresh Aldehydes, Bergamot Oil, Fir Balsam Oil, Ylang Ylang, Clove Buds, Pimento Berries, Sandalwood Oil Album, Patchouli Oil, and Sensual Musks.
Who currently owns a Drake candle?
A lot of people, including the aforementioned Toronto Raptors, Tyler Herro of the Miami Heat, DJ Khaled, Kehlani, Steph Curry and Ayesha Curry, Vashtie, various Instagram models, Dior's Yoon Ahn, and however many people noticed the candles were available on Revolve in September when the Revolve U episode launched. I'm assuming a set was sent to Rihanna. Vashtie posted that the candles are "Super Lux and Decadent," and Yovanna Ventura said they have "Great vibes and great smells." Joe Budden would very much like a Drake Candle, but felt awkward asking for one.
Can I purchase my own Drake candle?
As previously mentioned, all the Better World Fragrance candles on Revolve are marked as "Sold Out," so currently, no. OVO has an OVO x Kuumba candle which is technically a Drake candle, but that is also sold out, so, also no. The Revolve product pages still exist, and it's almost "this holiday season," so you'll probably be able to buy one "soon," but hopefully sooner than the "soon" Drake said back in June. Screenshots surfaced on the r/Drizzy subreddit last month that show Carby Musk (the one that smells like Drake) is $80, while the others are $48, and remember, that includes a festive gold pen, too. Prepare your candle budget accordingly.