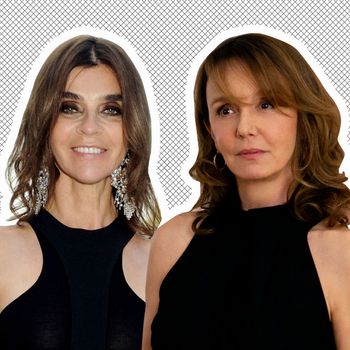 Photo: Getty Images/Netflix
Everyone has an opinion on Netflix's new show, Emily in Paris, even if they've never seen it. But when French fashion editor Carine Roitfeld binge-watched the show earlier this year, she had a pretty unique reaction. Upon closer inspection, she and her team realized that Emily's boss, Sylvie (Philippine Leroy-Beaulieu), dresses a lot like her. In fact, some of their outfits are almost identical, as illustrated in a collection of side-by-side comparisons shared on Roitfeld's personal Instagram last week. (How very Emily in Paris of her.) Roitfeld may not be the head of a PR firm like Sylvie, but as the former editor-in-chief of Vogue Paris and the founder of her own publication, CR Fashion Book, she is a prominent figure in the luxury world and a very well-known French boss.
When the Cut reached out to Roitfeld, she said that no one from the show has ever contacted her. But that doesn't necessarily mean she wasn't on costume designer Patricia Field's mood board — or that Roitfeld can't take the idea and run with it. Below, we spoke about what the show got right and what was maybe a stretch.
Are you calling from Paris right now? 
Yes, I am.
So did you have any involvement with the show? Did producers contact you?
No, they didn't. I've known Lily [Collins] for a long time. But so far, no. I saw a lot of Instagrams about Emily in Paris. It was everywhere. For us, it's a fun cliché of Paris. So I watched it.
When did you first start watching it?
Maybe two months ago? I have no sense of time now. The thing about it is that it's a very, very addictive show. I started watching because everyone was talking about it, and then I finished it in the same day. All of a sudden, I was at the end. I'm very happy there's going to be a second season.
What was your first impression of the show?
It's fun to see the way Americans see Paris — maybe in a nicer way than it really is. They love it. Some clichés. But I'm also happy that another country loves my city. I'm born and raised here, so I love Paris. Of course, there's some reality to it. We're not so nice when people meet us for the first time. [Laughs.] So, I got it.
I wanted to ask you about some of those clichés. Do French people not talk about work at parties?
Usually, no. In Paris, we separate private time and business time. It's important to close your computer and put away your iPhone. It's very different from in New York.
And what about French people saying that everything is pas possible?
This is also totally true. The first thing that French people say is pas possible. It's always something negative. It's just a way of talking. Like, if you ask them if they want to meet for a coffee, they'll say they don't like coffee, or maybe they want tea. But it's just for two minutes, and then after that, we're very nice and easy. Unfortunately, this is true.
Is it true that French people don't show up to the office until 10:30 a.m.?
No. No, no, no. Usually, the time is 9:30 a.m. You have to be at your desk, have had your coffee, and your computer has to be open, ready to work at 9:30 a.m. Some people want to be there before, and we work late in Paris. People go from the office to dinner, and dinner is not at 7 p.m. — it's at 9 p.m. It's a long day. We start at 9:30 a.m. and finish around 8 or 8:30 p.m. We're not lazy.
Was there anything that you felt was an inaccurate stereotype of French people? 
I think that if all the people at bars were looking this way, I would have coffee and dinner outside each time. [Laughs.] The show makes French people look very beautiful. It was a big compliment for French beauty, no?
So you're saying French people don't always look so put-together?
No, we're not. Some are! But what Emily sees is a dream. People come to Paris to find some lovers, and she did meet a lot of lovers, no? This is Paris's reputation: capitale de l'amour. It's true!
Do the French have a different relationship with social media?
I can only speak for myself, but a lot of my friends are as quick as Emily. In France, we learn quickly, and we're very good on Instagram. Our Instagram is less personal, though. We don't show our life and our feelings in the same way that Americans do. We don't put everything out there.
Of course, I'd love to talk about the style on the show. What did you think about Emily's outfits?
I read that it was Patricia Fields who did the costumes, and I think she understood what she needed to say. She made errors on purpose, because Emily is a young girl trying to keep up with the best. They did it in a nice way, though, so even if you think, Oh, this is an error, we never reproach her, we just have a smile on our faces. Sometimes she's a bit too much, a bit too colorful. In France, Parisians are classique. We're very color-blocked, very black. Very beige. We don't like to take any risks. Emily makes a lot of errors, but it's inspiring in a way because she's not perfect.
My real question, though, is how can she have so many looks in the little room she rents?? I just saw one clothing rack, and I thought, Uh oh. I would have loved when I was that age to have had that much money to spend on clothes. She's a young girl with a huge dream closet.
So you don't think that Emily is ringarde, or basic?
I think Emily tried to impress people at work, and she maybe tried a little too hard. But she's such a beautiful girl, and she's so smiley, that we forgive her for everything. Everyone in Paris loves Emily.
And what about her boss, Sylvie? When you were watching, did you notice that she wore looks similar to your own? 
My team in Paris has a very good memory and compared her looks with my looks. It's cool that we have certain looks in common. [They're not very recent] for me, the looks she was wearing. But it's always a compliment — maybe it's not reality, maybe it's just in my dreams — when someone tries to take your style a bit. But we don't have the same hair, and I don't think I move like her. And I think that I'm much nicer than her. [Laughs.]
Does Sylvie dress like a typical, chic French boss?
When she wore the white shirt with the black skirt, I thought it was very sexy and simple. I like when she wore the black dress with the watch. It was very French. But sometimes she makes very big errors. When she went to the Pierre Cadeau office, she mixed a blue top with a purple belt with three earrings and a baguette bag. This for me was … Oof. You know, I forgive Emily for everything. She's a young girl, okay. But Sylvie is not, so I don't forgive her for anything.
Sylvie dresses pretty formally for the office. Is that normal?
Yes, I think she's quite chic. She's always wearing high heels and a skirt. She's not in a T-shirt. She makes an effort. Even though she makes some errors, she's always doing French chic, like when she put the trench coat over the evening dress. She's also very French in the way she talks to people. She has a strong sense of humor and she can be very picky and very edgy with the conversation, and I like that too. French women, we're not shy. When she went to the hotel to find the actress, I thought she was very smart. I like her.
Do you have any predictions or hopes for season two? 
I hope that Emily continues to work with Sylvie, because now we know her and the team. And now I quite like Sylvie, because I understand who she is. But I also hope that Emily's fashion taste improves. I imagine her coming to the office looking stunning like Andy in The Devil Wears Prada. Remember when she comes in wearing those crazy Chanel boots, and all the assistants are shocked and furious, because suddenly she looks better than them? I want that for Emily.