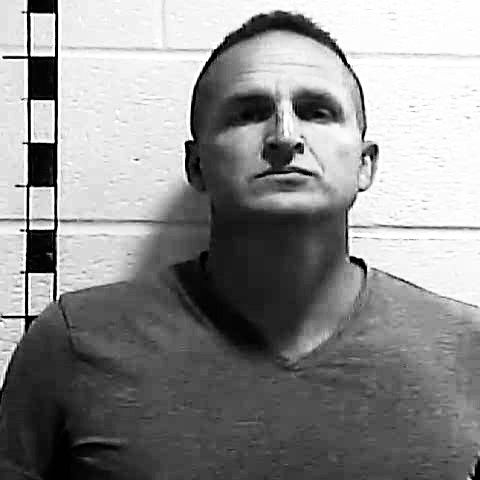 Brett Hankison.
Photo: Handout/Shelby County Detention Center via Getty Images
Brett Hankison, the only Louisville police officer to have been charged in connection with Breonna Taylor's killing, is being sued for sexual assault. In a lawsuit filed Tuesday, Margo Borders reiterated allegations she made against the ex-cop over the summer: Namely, that he offered her a ride home from a bar in April 2018, and once there, forced himself on her while she was unconscious.
In June, Borders was one of five women to publicly share stories of Hankison's alleged harassment and misconduct. In her lawsuit, which seeks unspecified monetary damages, she reportedly called him a "sexual predator" who leveraged his position of authority to "prey on innocent women."
Borders says she had been drinking with friends at Tin Roof Bar in Louisville when Hankison — in uniform and working security — insistently intervened. She already knew Hankison, and "when he offered to take her home," her attorney, Sam Aguiar, told WHAS11, "she was thrilled. He was a police officer. There was a sense of trust there. She didn't have to pay for an Uber, she was a broke law student."
Once they arrived, Hankison allegedly "invited" himself inside Borders's home, stationing himself on the couch. According to the lawsuit, Borders went to her room to change, but passed out; when she came to, Hankison was allegedly naked and sexually assaulting her. When she "yelled for [him] to get off her," it continues, according to WDRB 41, he "grabbed his uniform and left her room." And "true to his playbook," the suit adds, "Hankison then messaged Margo later in the day to try and suggest that the two had engaged in consensual relations."
Although she did not report the incident to the LMPD, Borders contends that Hankison made a habit of this behavior, befriending young women and adding them on social media, then targeting them when they were "vulnerable" or in an "intoxicated state." He positioned the free rides as "good deed[s] being done by a cop," her lawsuit claims, but has assaulted — and/or groped, and/or inappropriately photographed — some of these women. According to TMZ, Borders says over 10 women have made similar statements about their experiences with Hankison.
Her lawsuit also names a handful of LMPD officers and then-Police Chief Steve Conrad, whom Borders believes knew about Hankison's abuse but did nothing "to report, investigate, or safeguard" potential victims against it. In June, the department launched an investigation into the claims. Hankison was fired days later, for his role in Taylor's case: He was one of a trio of officers who burst into the 26-year-old's apartment in March, spraying the interior with bullets and ultimately killing Taylor in her own home. In September, a grand jury indicted Hankison on three felony charges of wanton endangerment — one for each of Taylor's white neighbors, whose window he shattered with his gunfire. He pleaded not guilty.
An LMPD spokesperson declined NPR affiliate WFPL's request for comment on the new allegations. Still, Hankison has been investigated multiple times before: In 2008, he was accused of coercing a suspect into giving him oral sex, and in 2015, of attempting to get a suspect to have intercourse with him. In both cases, he allegedly promised he wouldn't arrest the women if they agreed to his terms. And in both cases, the LMPD's Public Integrity Unit declared the complaints "unfounded." Still, Aguiar told WDRB he hopes that, this time, "The message will be sent that there will be accountability each and every time these officers use their uniform and badge to abuse women."