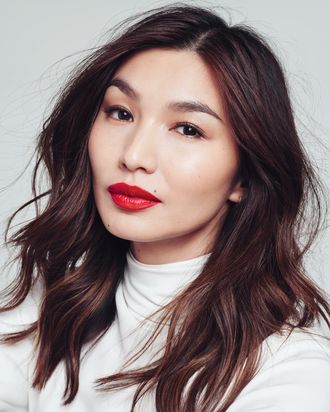 Gemma Chan
Photo: Courtesy of L'oreal
Thankfully, we're about to see a lot more Gemma Chan on our screens — in another Marvel movie, in a psychological thriller alongside Harry Styles's new haircut, and soon, in some elevated skin-care shorts. Today, L'Oréal Paris announced that the Crazy Rich Asians actress will be its new international spokesperson.
"I've always believed that we should embrace our difference as our strength. So I'm thrilled to join L'Oréal Paris, a family of empowered women of all origins standing together to show the power and beauty of diversity," Chan said in a release. "The L'Oréal Paris message to every woman, believe in your self-worth, is as needed today as ever."
As an activist, Chan already has a reputation of helping others feel they're "worth it." The British actress and Oxford law graduate partners with UNICEF U.K. to campaign for children's rights, and is a founding member of the Justice and Equality Fund (the U.K. equivalent of the Time's Up Legal Defense Fund) to combat sexual harassment, assault, and discrimination. Last year, she founded her own production company to tell minorities' stories, and was crowned a 'Force for Change' by British Vogue in the issue guest-edited by Meghan Markle.
"Gemma Chan is proof of the success that happens when you have the confidence to follow your own dreams, and speak up for others to be able to follow theirs," Delphine Viguier-Hovasse, global brand president L'Oréal Paris, said in a release. "Committed to her causes with innate female strength, she's a source of inspiration beyond the screen, for young women to be the change. We're delighted to welcome Gemma to the family."
In her new role, Chan will be joining ambassadors Viola Davis, Eva Longoria, and Céline Dion, who once pole-danced with Chan on a party bus, essentially gifting her the best "welcome to the family" present one could receive. For her L'Oréal Paris debut, Chan and her illustrious cheekbones will be starring in the global campaign for the brand's Revitalift Derm Intensives 3.5 Percent Pure Glycolic Cleanser, which launches internationally this month.