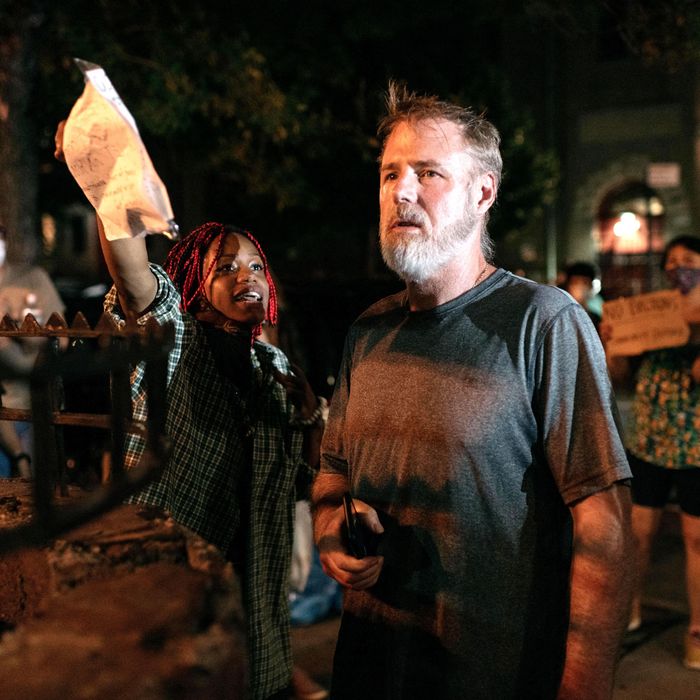 Loretta Gendville and Gennaro Brooks-Church, two Brooklyn landlords and former partners who were at the center of an eviction scandal this summer, are being sued by the city of New York.
In a press release today, the Mayor's office announced that the city is seeking civil penalties against the couple for violating eviction law, for tenant harassment, and for construction and code violations. "This administration will not tolerate landlords who illegally evict and harass tenants out of their homes, and we will take forceful action like today's lawsuit to make that very clear," said Ricardo Martínez Campos, deputy director for the Mayor's Office to Protect Tenants (MOPT).
Brooks-Church and Gendville own a single-family home at 1214 Dean Street, in which at least nine tenants were living when the pandemic hit. When several of the tenants stopped being able to pay rent, the landlords eventually showed up to the house with their three children and, according to the tenants, attempted to force the tenants to leave. A moratorium on evictions was in effect, and the tenants reached out to local organizers who staged a protest at 1214 Dean Street, eventually forcing the then-couple to let the tenants stay. The tenants have since moved out.
The press release from the mayor's office says that Brooks-Church and Gendville "blatantly harassed the tenants of 1214 Dean Street, illegally evicting at least four tenants during the COVID-19 pandemic."
An August investigation into Gendville and Brooks-Church's antics by New York uncovered years of their shady dealings as landlords and business owners. Gendville is the former proprietor of the Brooklyn yoga empire Area Yoga, and Brooks-Church owns a green-building company called Eco Brooklyn. Together, they were pioneering gentrifiers of the borough in the early and mid-2000s; one former employee described them as "Brooklyn Heights' Bonnie and Clyde." In addition to running their businesses, the former couple made money by acquiring multiple properties and renting them out, some on Airbnb, and some to tenants like the ones at 1214 Dean St., who were living in the (illegally converted) single-family home. Tenants who had lived at 1214 Dean St. for almost a decade told New York that Brooks-Church and Gendville were negligent landlords who responded to complaints with hostility and threats.
The press release from the mayor's office also states that Gendville and Brooks-Church are under "active investigation" by the New York Attorney General's office. The AG's office declined to comment to the Cut further on the scope of the investigation.
Reached by phone, at least one tenant expressed happiness at the news. Still, it remains unclear if any of the penalties recovered by the city will be disbursed to the tenants. In the city's statement, it said the lawsuit was intended "to reverse any windfall that landlords may receive from their bad acts, and to broadcast a message that other landlords think twice before illegally displacing tenants." Lawyer Addrana Montgomery of TakeRoot Justice, who is currently representing around a half dozen former tenants, said her clients "are considering their options. They were indeed harmed by the defendants so they want that to be corrected."
The Cut has reached out to Gendville and Brooks-Church for comment and will post an update if we hear from them.