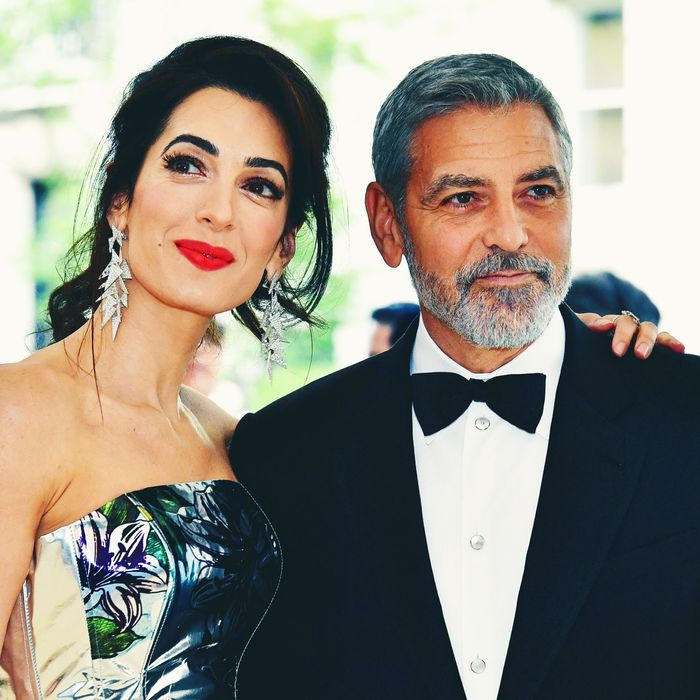 Amal and George Clooney.
Photo: Dia Dipasupil/WireImage
Damn, George Clooney is really, really into his wife. And can you blame him? Amal Clooney is a brilliant, accomplished international human-rights barrister who has represented thousands of Yazidi genocide victims and who served as the U.K.'s former envoy on press freedom before stepping down from her position in September because of the British government's mishandling of Brexit.
"Yeah, my wife is literally — Like, today she's in the middle of sort of standing up against the British government, you know, deciding that they're gonna break international law. So she had to retire as the envoy, and she's in there doing that," Clooney proudly told GQ in a profile that came out this week. "And I'm in here doing this interview."
The actor and director went on to gush even more about his wife, who he married in Venice in 2014. After his divorce from actress Talia Balsam in 1993, Clooney was a notorious bachelor for many years, and that suited him just fine. But then Amal appeared, and everything changed. As he told GQ:
 "I'm gonna work, I've got great friends, my life is full, I'm doing well. And I didn't know how un-full it was until I met Amal. And then everything changed. And I was like, 'Oh, actually, this has been a huge empty space.' " Marriage changed him in the simplest way, he says, "because I'd never been in the position where someone else's life was infinitely more important to me than my own. You know? And then tack on two more individuals, who are small and have to be fed … "
Clooney also discussed his reasons for stepping back from acting in recent years, and while some of them are complex, one, GQ's Zach Baron notes, is very simple: "And that reason is that he feels great affection for his wife of six years and would generally rather spend time with her than do anything else."
Spoken like a man who is fully aware he's married to a goddess.