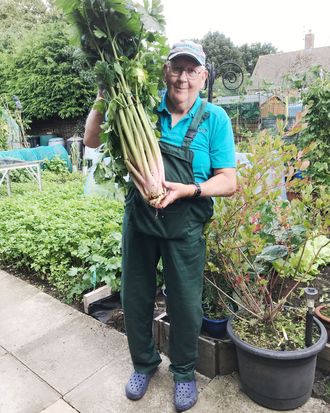 Gerald and his celery.
Photo: Gerald Stratford/Twitter
Amid the roiling seas of Twitter, the endless sniping and bad-faith political arguments and viral hoaxes, a peaceful oasis recently emerged. To gaze upon it is to feel relaxed, at ease, proud, even. Standing on its shores is a 72-year-old man clad in a teal windbreaker, smiling warmly, and brandishing an absolutely massive carrot he just plucked from the ground.
His name is Gerald Stratford, and he is internet-famous for his gardening exploits at his home in Milton-under-Wychwood in Oxfordshire. Perhaps you've already seen one of the photos he posts on Twitter: There's the one of him in his jeans and squash suspenders, proudly holding a gigantic carrot, with the caption "I wish I could send the aroma it's Devine cheers." There's the one of him in his coveralls and Crocs, showing off a celery the size of a Labrador retriever and asking his followers, "Now what shall I do with this big boy celery?" And of course, there are the pictures that first got him noticed online back in May — shots of Gerald wearing snappy blue suspenders over matching red jeans and a T-shirt, proudly displaying his new crop of rocket potatoes with the caption: "My first early rocket very pleased."
Gerald had joined Twitter a few months earlier, at the urging of his stepson Steven, who told him it would be a good way to connect and share information with other gardeners online. Soon after he posted the pictures of himself and his rockets, his phone started to "bleep and burst and flash." Thinking something had gone wrong with the software, he called Steven to figure out what was going on. This is how he came to learn he had "gone viral," a term Gerald had to have explained to him. Within 48 hours, the photos of Gerald and his rockets had gotten 78,000 likes from people praising his outfit and his spuds, and his account had 9,000 new followers. And the numbers have just continued to grow.
It's easy to see why. Gerald's always smiling in his pictures. He is openly excited about big veg. His posts are earnest, cheerful, and informative, and usually lightly edited by his partner, Liz. "Liz is very good to sort of correct me," Gerald tells me over Zoom one afternoon. "She's very good at getting my grammar right. I'm a country bumpkin."
Gerald's been gardening his whole life. His father taught him when he was young; now, the former fisherman has a large garden next to the home he shares with Liz, and two allotments nearby where he grows his internet-famous vegetables — zucchini, tomatoes, cucumbers, kale, brussels sprouts, 11 types of potatoes, etc. He is far newer to technology, and doesn't understand it well. He's worried the internet will gobble everything up, which is why he keeps track of his follower count in his diary: 180,300 and counting, he tells me.
He doesn't take his new following lightly. When Gerald first started his account, he said he only spent a few minutes on Twitter a day. Now, it's up to about four or five hours. Most of this time is spent celebrating his follower's gardening accomplishments or answering their questions. "If people are reaching out for me, it's only fair that I should reach back." A typical Gerald reply is brisk but encouraging, often lacking punctuation: "They are beauties you enjoy" in response to a carrot pic, for example, or "They look beautiful" regarding a modest harvest of yams.
Gerald's fans — he asks if he's allowed to call them fans, and I say I think he is — are as devoted to him as he is to them. They love his positivity, his produce, and his five pairs of suspenders ("I'm a big chap, so suspenders are a nice item to keep everything in place"). Recently, fans in Canada and France even did illustrations of him. All the attention from all over the world has blown him away. "People are taking note of old Gerald Stratford from dear old U.K.," he says happily.
As for what comes next for Gerald, one of his big ambitions is to grow a big onion. Ten pounds, to be specific. His biggest to date has only been a little over five pounds, and he thinks that in order to double that, he'll probably have to grow one inside this year, under more controlled conditions. But he's optimistic. "I'm always optimistic. I've been fishing all my life, all fishermen are optimists. You wouldn't go fishing if you're a pessimist."
Beyond the simply giant onion, a children's book could be next, he thinks. He's been approached by a couple of publishers, and he likes the idea of kids learning to garden young, like he did. "Today's children are tomorrow's adults. And if I could, say, have a legacy, it would be to get children back into gardening."
For those children or non-children looking to start their own gardens, Gerald's advice is to not make it too complicated, and to not get frustrated. "If you're doing something in the garden and it's not working right, walk away and do something else. And then you renew your vigor, and you can come back to it." Lettuce is a pretty easy crop to start with, as is radish. And if you don't have much space, Gerald says, there are a lot of vegetables you can grow in containers on small balconies. And whatever you do, he says, do not, do not, do NOT wash the soil off of vegetables until you're ready to eat them. "My pet hate is washed vegetables," Gerald says. Soil helps preserve them longer, he explains, and thus prevents food waste.
If you have more questions about your own garden, though, Gerald will probably answer them for you on Twitter.
"This is all so new to me," he says, as we prepare to sign off. "I'm just embracing it. I just love it. And, you know, long may it continue. As long as I've got breath in my body, I want to carry on."