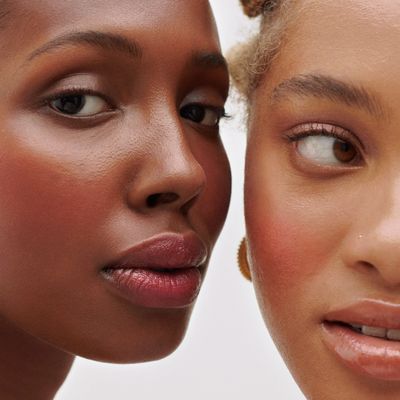 Photo: Courtesy of Glossier
Watching the sun set at 4:45pm is upsetting, but channeling the pretty part where the sky changes colors can be a temporary mood-booster.
As luck would have it, Glossier just launched two new shades of Cloud Paint, their dreamy gel-cream blush inspired by photogenic sunsets. The lineup is expanding with a duo of deeper hues reminiscent of the late autumn skies we see outside our windows before we're enveloped in complete darkness … shortly after lunch. There's Spark, a bright poppy color "that leaves a sunny-day, smiling-all-afternoon blush," and Eve, a rich mulberry shade that "hits cheekbones like perfect golden-hour lighting."
The two new additions are nice complements to the six other Cloud Paint shades currently in existence. Dawn, a sunny coral, and Storm, a warm rose, are brighter, more vivid shades that are great for darker skin tones. On the lighter end are Puff, a cool pink, Beam, a coral-peach, Dusk, a brownish nude, and Haze, a sheer fuchsia.
Every color in the Cloud Paint family will make you look like you got an adequate amount of sleep and/or just did some physical activity; and every tube contains a pillowy formula infused with water-retaining collagen, so you'll get the brand's signature moist look even if you're idly sitting inside, roasting next to the heater with no humidifier in sight. If you want dewy limbs to match, coat them in Glossier's new body oil mist, which launched last month.