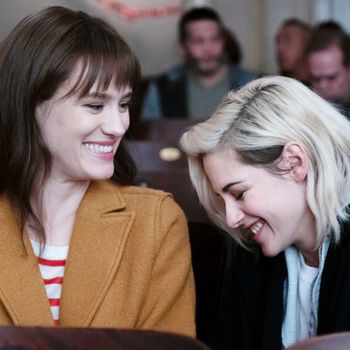 MacKenzie Davis and Kristen Stewart.
Photo: Hulu
Not once in the past 15 years have I been inclined to watch a new holiday rom-com. While I'm happy the bloated genre exists for those who delight in every new addition, when I'm in the mood to be both horny and jolly, I'd rather return to two trusted bangers: The Holiday and Love Actually.
So imagine my shock upon coming across the trailer for one of this year's new installations to the genre, Hulu's Happiest Season, and finding myself intrigued enough to watch it, and then thinking, I could actually see myself going back for the whole thing?
Hulu really knew what they were doing here: At the center of the love story is the exceptionally hot lesbian couple of Kristen Stewart and Mackenzie Davis. Stewart's character, Abby, has plans to propose to Harper, played by Davis, in front of her loved ones during Christmas dinner. But then she learns that Harper has not yet come out to her family. Harper's family thinks Abby is her "orphan friend," and also straight; Abby, who is understandably hurt upon learning that her live-in girlfriend's family doesn't know they're together, calls in her best friend, the enduringly delightful Dan Levy of Schitt's Creek fame, for moral support and advice. Overall, exceptional casting — Mary Steenburgen also has a role — and a touching plotline.
My only complaint after watching the trailer: Why only show one kiss between Davis and Stewart? Perhaps that's how they lure you into these things. Anyway, guess I'll be seeing you all on Hulu on November 25.