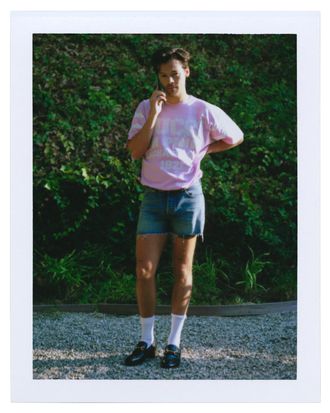 Stems!
Photo: Gus Van Sant
Hot on the heels of Harry Styles in a beautiful gown, we give you: Harry Styles, beautiful in jorts. Or, we don't; Gucci does. (In both cases, gown and jort.)
On Wednesday, Gucci dropped the third episode of its seven-part miniseries Ouverture of Something that Never Ended, a collaboration between Gucci creative director Alessandro Michele and award-winning director, Gus Van Sant. New episodes are airing each day during GucciFest, a micro-film festival effectively serving as the label's very own fashion week. The third installment features Harry, famously a face of Gucci. He is outfitted in denim cutoffs, classic horsebit loafers, tall white socks, and a sporty T-shirt emblazoned with "Gucci Loves Pink Eschatology 1921." Fetching, no?
In the ep, we find main character Silvia (Silvia Calderoni) in a Roman post office, where Italian art critic Achille Bonito Olivia is also waiting on line and — somewhat improbably — talking to Harry on the phone. Harry is kicking around a sunny garden, gams out, and using what to me looks like a Motorola Razr (unconfirmed). Please note, you must watch all the way to the credits to see the stems:
Bellissimo!