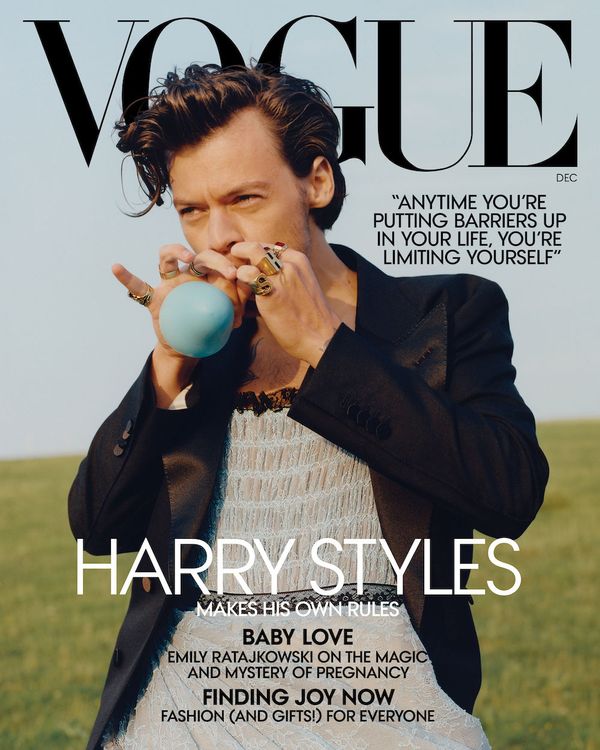 Harry Styles in Gucci.
Photo: Tyler Mitchell
It might be mid-November, but do you feel that warm summer breeze? It's Harry Styles on the December cover of Vogue, which was unveiled today.
The image is a first for Vogue, which has never had a solo man on the cover before. It was shot by Tyler Mitchell, who made history as the first Black photographer of a Vogue cover in September 2018. The singer wears a tuxedo jacket and gown given to him by his friend Alessandro Michele, creative director of Gucci, and the story celebrates the way he breaks barriers with fashion.
"[Harry] is the image of a new era, of the way that a man can look," Michele says in the cover story by Hamish Bowles, who's also periodically dabbled in gender-fluid expression. "He's really in touch with his feminine side because it's something natural. And he's a big inspiration to a younger generation — about how you can be in a totally free playground when you feel comfortable. I think that he's a revolutionary."
Styles spoke earnestly to Bowles about the trajectory of his life after One Direction (he recently announced he'll be starring in Olivia Wilde's second film) and the freedom he's found in fashion. He enjoys experimentation, and he's gotten tons of attention for it thanks to his stylist, Harry Lambert. "Clothes are there to have fun with and experiment with and play with. What's really exciting is that all of these lines are just kind of crumbling away," Styles told Vogue. "I'll go in shops sometimes, and I just find myself looking at the women's clothes thinking they're amazing. It's like anything — anytime you're putting barriers up in your own life, you're just limiting yourself."
Styles, of course, is genuinely being himself, but it's worth pointing out that his gender-fluid style gets praised in part because he presents as a straight white male (though he has said in the past that he "never felt the need" to define his sexual orientation). An outwardly queer star like Billy Porter, who's been expressing himself with fashion long before his red carpet days, might not be celebrated in the same way.
Unlike Zayn Malik and Gigi Hadid, who Vogue described as gender-fluid — they, um, like sharing T-shirts — Styles is posed simply as a man who enjoys wearing clothes regardless of gender. "I hope that this brand of confidence as a male that Harry has — truly devoid of any traces of toxic masculinity — is indicative of his generation and therefore the future of the world," Wilde says in the cover story. "I think he is in many ways championing that, spearheading that. It's pretty powerful and kind of extraordinary to see someone in his position redefining what it can mean to be a man with confidence."
While it's fun to see Styles live freely in the spotlight, queer and trans people, especially people of color, face discrimination and violence for the same sort of expression. But Harry Styles, visionary and Aquarius that he is, probably lives in a just and equal future in his head. The rest of us are just hoping reality can catch up.