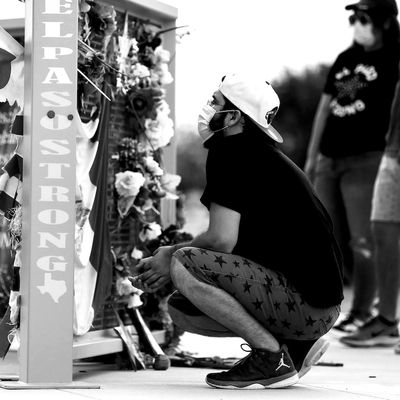 A memorial to victims of the 2019 massacre at a Walmart in El Paso, Texas.
Photo: Mario Tama/Getty Images
Last year saw the highest number of hate crimes committed in the United States since 2008, according to the FBI's annual report. It also marked the highest number of hate-motivated murders in the history of the agency's reporting, according to the Associated Press.
Released Monday, the 2019 data logged 7,314 criminal hate-crime incidents, an increase from 2018's reported 7,120, but short of 2008's record of 7,783. Of last year's total, the FBI suspects 7,103 incidents to have been motivated by a single factor. Nearly 58 percent of victims were believed to have been targeted because of their race or ethnicity; 20 percent because of their religion; almost 17 percent because of their sexual orientation; nearly 3 percent because of their gender identity; and 2 percent because of their ability. A further 211 crimes involved multiple bias motives.
Last year, the FBI also counted 51 killings, including the massacre at a Walmart in El Paso, Texas, in August. Before the shooting, the gunman — Patrick Wood Crusius — authored a vitriolic, 2,300-word manifesto railing against what he described as the "Hispanic invasion of Texas"; survivors said Crusius appeared to seek out Latinx people as he moved through the store.
Most of the year's racially motivated crimes occurred against Black people, although the AP notes that anti-Hispanic and anti-Semitic hate crimes were both up from 2018. But across the board, the actual number likely exceeds the FBI's tally by a long shot: Many people who experience bias-motivated offenses won't report them to law enforcement, and those who do often won't see their cases investigated as hate crimes. (If they see them investigated at all.) Meanwhile, the FBI's data relies on local law-enforcement agencies to submit their own statistics and to do so accurately. That process looks spotty at best: Only 2,172 out of 15,588 participating agencies recorded at least one hate crime in 2019. Others logged zero incidents or failed to send their information at all.
Even factoring in the flaws, though, the report paints a bleak portrait, in step with an upward trend in violent white-supremacist activity. According to the FBI, 52.5 percent of known offenders were white. The Southern Poverty Law Center says the number of white-nationalist hate groups operating in the U.S. increased by 55 percent between 2017 and 2019 — a steady uptick that has marked President Donald Trump's term in office. According to Brian Levin, director of the Center for the Study of Hate and Extremism at California State University, San Bernardino, the parallel is hardly a coincidence.
"Politics plays a role," Levin told the New York Times. "The president's rhetoric has been identified in a series of actual attacks, but moreover the day-by-day ticks of FBI hate crimes shows there are increases after sustained and fervent remarks by the president." Those, Levin continued, often "enter into an online feedback loop that also ends up in other discourses, both at the water cooler and on television."