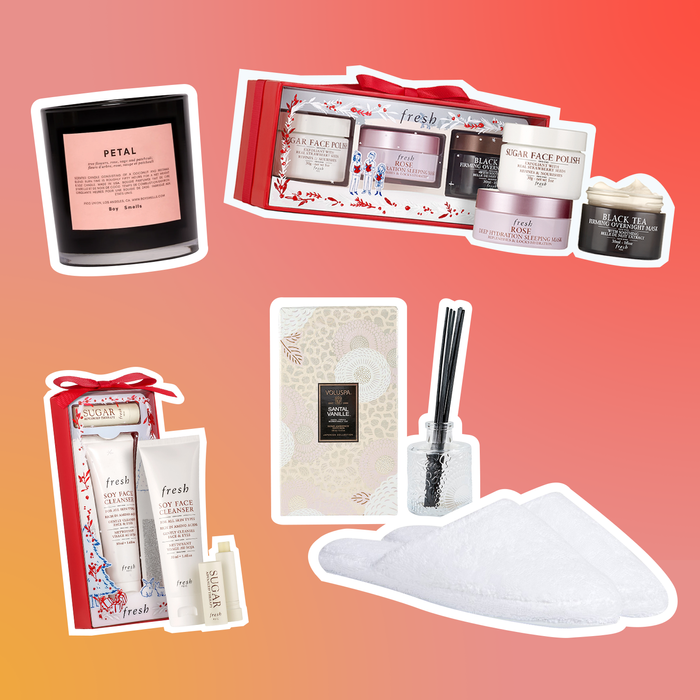 We're coming to the end of a stressful year, and it's finally time to get into our coziest pajamas, watch the snow falling softly outdoors, exchange gifts, and take a deep breath. In the last few weeks of this year, you deserve to relax, and so do your loved ones. There's never been a better time to treat the moms, sisters, and best friends in your life with gifts of comfort and luxury — and we've removed the stress of holiday shopping by putting together a helpful gift guide centered around our favorite products for relaxing.
Help your loved ones unwind with a scented candle, luxurious bathrobe, or soothing face mask, or get more products for your money — and let them test multiple products at once — with gift sets from Fresh, the skincare brand that definitely knows a thing or two about relaxation. (Plus, they're conveniently available at Sephora.) And while you're here shopping for others, why not pick up something for yourself, too? We all deserve some extra pampering and relaxation this year.
It's hard to feel stressed when you have a face mask on. For those glorious ten minutes before you wash it off, you're free of all responsibilities except settling in, relaxing, and letting those soothing nutrients soak into your skin. Give the ultimate masking gift with this set, which includes four Fresh face masks: the Black Tea Firming Overnight Mask, the Black Tea Instant Perfecting Mask, the Sugar Face Polish Exfoliator, and the Rose Face Mask.
Candles can instantly change the vibe of a room or a setting — a candle burning slowly on your desk can decrease the stress of working from home, and lighting one by the bathtub adds an extra element of tranquility. For a stylish gift option, we recommend the much-loved candles from Boy Smells, especially in the brand's best-selling scent Petal, featuring a relaxing mix of tree flowers, rose, sage, and patchouli.
We'll all be spending more time in our homes this winter than usual, so it's important to have comfortable indoor slippers to keep our feet cozy and warm. These slippers from Parachute, best known for their luxuriously comfortable bedding, are made with plush terry fabric and come in white and gray options. (Grab the matching bathrobe, too, for an extra-special gift.)
With the winter weather comes chapped, dry lips, so prepare ahead of time and get your loved one this gift set with three nourishing Fresh lip products. The set comes with three balms with distinctive uses — enough to make sure their lips are moisturized and happy all winter long. Fresh's Advanced Therapy balm volumizes and moisturizes with hyaluronic acid, the Sugar Mint balm hydrates, and the Sugar Lip Balm goes on with a sheer pink tint.
If you're looking to splurge and treat your loved one with a truly special gift, try Matouk's ultra-luxurious Cairo Robe. Made with 100 percent Cairo long-staple cotton, and available in a wide variety of colors, the robe feels like a warm, cozy hug after you get out of the shower or bath. Add a monogram for an even more personal touch.
A perfect small gift or stocking stuffer, the Fresh Skincare Best-Sellers Mini Kit is an easy and affordable way to give your best friend, sister, or mom a selection of high-quality skincare products. The set includes mini versions of two of Fresh's most popular products, the Soy Makeup Removing Face Wash and the Sugar Advanced Therapy Treatment Lip Balm.
For the tea lovers in your life, try this set from the beloved cookware brand Le Creuset. The set comes with an adorable tea kettle and two matching mugs, and is available in a range of colors and made with durable stoneware. Pro tip: Throw in some tea bags of your choice, and wrap it all up in a basket for a sweet, thoughtful gift.
Relaxation begins with a high-quality, comfortable throw blanket. For the loved one in your life who could use some extra TLC, try this option from State Cashmere. Made with a wool-cashmere blend, and available in two color options, the blanket will keep you warm and cozy throughout the winter and looks great as a statement piece on the couch.
Can't decide which skincare product to gift, or thinking you'd rather let your loved one test out a selection of products for themselves? This cost-effective set from Fresh features five products from the brand's popular Rose line, which treats dryness, uneven texture, and dullness — including the Rose & Hyaluronic Acid Deep Hydration Moisturizer, the Soy Makeup Removing Face Wash, and the Rose Face Mask, among others.
This diffuser from Voluspa comes with a chic glass jar, meaning it'll look great as the centerpiece of a coffee table or in the bathroom. Though it comes in a variety of scents, we recommend this one, which contains notes of Santal, French bourbon vanilla, and Oud — a luxurious scent perfect for relaxing with a book in the tub.
This advertising content was produced in collaboration between Vox Creative and our sponsor, without involvement from Vox Media editorial staff.