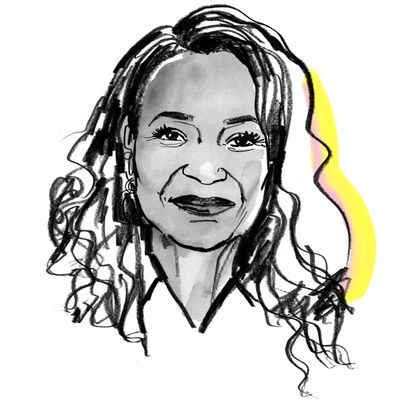 Illustration: Lauren Tamaki
Some of Debbie Allen's most iconic characters are known for dispensing tough love, and none more so than Lydia Grant, the dance instructor Allen played in the 1980 film and television series Fame, who offered the infamous line: "Fame costs, and right here is where you start paying; in sweat." Forty years later — dancing, acting, choreographing, directing, and producing all the while — Allen is trying to impart those same lessons to her students at the Debbie Allen Dance Academy (DADA).
Now viewers can see that firsthand in the Netflix documentary Dance Dreams, executive produced by Shondaland. The film follows Allen and her students as they prepare for their annual performance of Hot Chocolate Nutcracker, a modern take on the Christmas ballet standby. Many moments are truly uplifting: "This is about woman power," Allen tells a sea of dancers during rehearsal. "Women rule the world. I don't care what they say." But she's sure to remind them — especially when they are late or loud or unfocused — that "every day is not just a rehearsal for Nutcracker, it's a rehearsal for the rest of your life." When she's not at DADA, Allen plays the role of headstrong doctor Catherine Fox on ABC's Grey's Anatomy, directs and produces many of its episodes, and is currently in the process of developing two series of her own. She lives in Los Angeles with her husband and mother. Here's how she gets it done.
On reimagining a classic: 
I'm curious about the world of theater and art and technology, and I have interests that are born from literature and from seeing. I was totally inspired after I met Alvin Ailey and Judith Jamison to go back to Howard and infuse my students with a whole new language of dance. And so sometimes it's what you take in. But then how do you put it back out? Martha Graham's entire legacy is as the great mother of modern dance here in America, but she was influenced by the East. And it was when I went to India as cultural ambassador for the United States, I saw the purest Indian dance, and I saw Martha Graham coming out of the floor. I saw the influence. It's not about copying, it's more inspiration to do. That's something that I want to give to the people. It's not ambition that's driving me. It's inspiration and the need to touch.
On multitasking:
I wake up every day at five o'clock, whether I want to or not. I guess you could say I could be in the circus. I have always been able to multitask. When I was young, I was an honor-roll student. I was a majorette. I was in dance class. I had a boyfriend. That was a lot for a 16-year-old. And now it's no different. I'm promoting Christmas on the Square. Dance Dreams is huge. I'm in the middle of developing two television series, hopefully for next year. I have to raise 7 million dollars to finish building the new [DADA] building, so I'm out there with a tin cup. I just have no ego about any of that. Last week, we threw a huge gala in the Rose Bowl parking lot [an annual DADA fundraiser], almost 300 cars filled with people. We had Arturo Sandoval, Stevie Wonder on the stage, Tichina Arnold, Kevin McKidd, my dancers, Syncopated Ladies. That was the same week that the new season of Grey's debuted. My day is consumed before I wake up. I have very little time to be spontaneous and just do what I feel like, unless something gets canceled. I mean, one day I honestly was on two Zoom calls at the same time. That was crazy.
On work-life balance: 
I try to have moments. I have time with my granddaughter, which no one gets to interfere with. Saturday afternoon belongs to her. I don't care what else there is, I have to have time to chase her around the house, buy her some balloons or sing songs with her or whatever it is she wants. That's actually some of our best quality time because my husband and I do shut the world out so we can be with her and our family. Otherwise it just won't happen, because I can walk in to the house at the end of the day and have some visual effects to approve or have something I have to read or the next cut that I have to look at or paperwork for DADA or call these people to try to get funds or, you know. The worst part of all of it is I never have Debbie time.
On the best part of her many jobs: 
My most favorite is the reaction of the people when they see the work. Those people at the drive-in gala saw my students, the kids that I've been raising for the past 20 years, and it touched them, in a way, and made them understand why what we do is essential and important. When Grey's Anatomy aired last week, we broke the internet. When I get feedback from people, that is what really is the best part.
On stress management: 
I have a lot of friends who are having a hard time during COVID. A lot of them are going through depression. Maybe it's because they don't have anything to do, or maybe because they're so isolated, which I am not. I transformed my dance studio into a virtual studio literally overnight. [The staff] basically lived there to set up the technology to make it work. That's not something everybody has. And I have to be grateful for that, as tiring as it is — grateful that there is some real purpose to what I'm doing and what the people who work with me are doing. Everybody needs to make money and get paid. But at the end of the day, if you can walk away and feel good about what you just did, that's a lot.
On overcoming self doubt:
I was raised by a woman, Vivian Ayres Allen, who imparted on each one of her children that we were the most special one. I think she told each one of us that separately. I felt special. Phylicia [Rashad] felt special. My brother Tex felt special. My baby brother Huey, too. We grew up with a woman who made us know that we had value and that we better get out here and do something. And there was no time for mindless dancing, just shaking your ass. You better be moving toward where you're trying to go.
My mother's first real big book, Hawk, was about man's transcendence into the sun and into a whole other sphere of being. Whenever self-doubt crept into my beautiful universe — like that one time when the man at the University of North Carolina told me I could not be successful in dance because of my body type — that was crushing, and that stopped me. But my mother didn't let that be my truth. She did not allow me to have a pity party. When I'm looking at my students, I don't want them to be shrinking violets. Ever. I want them to command their beauty, their time, their space, and just be who they are destined to be. And I know what that means for myself, so I can speak that truly.
On the mentor that shaped her: 
Madame Tatiana Semenova tore me up. She was amazing. She was from the Maryanski School in Russia and she really gave the toughest love that I ever received. Sometimes in class, she would insult me to get me to do [the steps] the way she wanted me to do them, and then she couldn't believe I didn't cry. I was born in the era of civil-rights legislation, marching. I'd seen brutality against Black people for just wanting to go to a restaurant or ride a bus or go to dance class; I'd seen atrocities that no child should see. And so what she said to me was like water on a duck's back. I was ready to take it because it took me so long to get into that school. When I finally got in there, I was ready to go the distance and get what I needed. And that's what people have to know. You have to go and get what you need. And once you have what you need, you can kick ball change and move on.