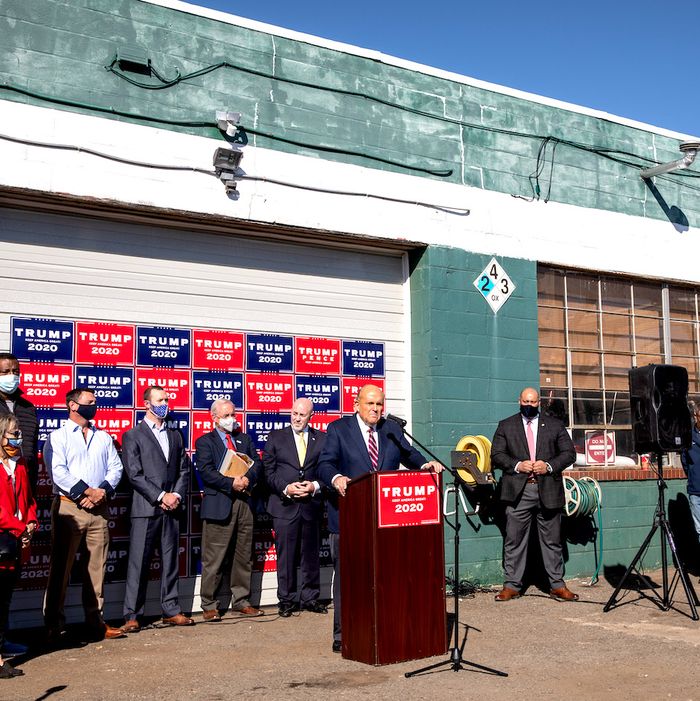 Scatter my ashes at Four Seasons Total Landscaping.
Photo: Chris McGrath/Getty Images
Saturday delivered a series of very pleasing surprises: The networks put an end to the agonizingly slow 2020 election, calling the race for President-elect Joe Biden. That announcement kicked off hours of exuberant outdoor partying — widespread screaming, impromptu street dancing, and a cacophony of cowbells — in cities around the country. And somewhere in the midst of all that celebrating, the Trump campaign handed us a dark-horse contender for the day's most captivating development yet: A press conference convened outside Four Seasons Total Landscaping, a random Philadelphia business that someone in the president's orbit seemingly mistook for a luxury hotel.
I cannot imagine a tidier visual metaphor for the collapse of Trump's presidency, nor can I stop replaying the footage in my mind, even 24 hours later. Mentally, I am here:
Which is to say, I am screaming in a parking lot, comfortably nestled between a crematorium and a sex shop.
How did we arrive at Four Seasons Total Landscaping, you may be wondering. It's possible that only Rudy Giuliani, who spearheaded the press conference, knows for sure. Still, Trump's tweets paint a pretty clear picture of the road that likely led us here.
On Saturday morning, Trump initially announced that his lawyers would address reporters from the Four Seasons Philadelphia at 11 a.m. But as the Philadelphia Inquirer points out, the tweet came down within minutes, apparently the result of a speedy rejoinder from the hotel the president name-dropped. "To clarify, President Trump's news conference will NOT be held at Four Seasons Hotel Philadelphia," its management tweeted. "It will be held at Four Seasons Total Landscaping — no relation with the hotel."
According to the New York Times, "the mistake was not in the booking, but in a garbled game of telephone." Apparently, Giuliani and Trump campaign advisor Corey Lewandowski told their boss they planned to hold the news conference at Four Seasons Total Landscaping, and he heard what he wanted to hear, which was fancy hotel chain. In fact, the Times reports, "The campaign had always intended to hold the news conference in a friendlier part of town," the area around the Philadelphia convention center — where election officials had been counting absentee ballots — being swamped with Biden supporters. As to how Trump's people landed on Four Seasons Total Landscaping, both the campaign and the White House declined the Times's request for comment, failing to erase impressions that someone made a large and hilarious mistake.
The president, meanwhile, subsequently tried to clarify the situation in real time. First, he tweeted the apparent non-sequitur "Four Season's Landscaping!" Minutes later, he followed up with, "Big press conference today in Philadelphia at Four Seasons Total Landscaping — 11:30 a.m.!" A very satisfying sequence, as you can see:
The conference's location arguably eclipsed its content — basically just Giuliani shouting down laughter over another public gaffe with allegations of voter fraud, moments after MSNBC and CNN declared Biden our next president. According to Vox, many of the reporters in attendance began packing up their equipment right "as Trump's attorney began speaking." Embarrassing!
On Saturday night, while Biden geared up to address the nation, Lewandowski addressed the FSTL debacle. "All great Americans in PA use Four Seasons Total Landscaping," he tweeted. "They love this country and are American Patriots. Thank you!!"
Unfortunately, all this publicity appears to have created some unwanted attention for Four Seasons Total Landscaping — "a nationally certified Woman-Owned Minority Business Entity," per its LinkedIn — which now finds itself asking its public to ease up on the criticism. "It saddens us that we have received such harsh judgement. Our team at Four Seasons would have proudly hosted any presidential candidate's campaign at our business," the company ("a family-owned small business run by life long Philadelphians"!) said in a Facebook post. "We strongly believe in America and in democracy. We hope that our fellow Americans can join together and support all local small businesses during this time." Four Seasons Total Landscaping was simply "honored to be asked to host a press conference," the post explained, and it will have merch available as soon as Monday morning, if anyone would like to commemorate the moment.
Realistically, I can see where a small business might not correct the president's people when they (presumably) called to confirm a nationally televised appearance, even if the offer doesn't make much intuitive sense. See how many people are talking about Four Seasons Total Landscaping now, both inside and outside the Philadelphia metro area? Would we seriously have preferred for Four Seasons Total Landscaping to decline the Trump campaign's request?? I mean, what other ending could possibly be better than this???
Update: There's more! During the press conference, Giuliani called on a handful of purported witnesses to talk about the alleged voter fraud they supposedly saw in Philadelphia. According to Politico, one — a self-described GOP poll watcher — turned out to be a convicted sex offender: New Jersey's Daryl Brooks "was incarcerated in the 1990s on charges of sexual assault, lewdness, and endangering the welfare of a minor for exposing himself to two girls ages 7 and 11," the outlet reports. Brooks denied the charges and said his arrest was a police setup, adding that he didn't know whether or not Giuliani knew about his conviction before the presser. Still, Politico notes that "Trenton political insiders watched with bemusement as Brooks took the podium."
"I started watching it, and all of a sudden I was like, 'There's New Jersey's perennial candidate claiming to live in Philadelphia and Giuliani claiming him to be a poll watcher and Philadelphia resident," Trenton mayor Reed Gusciora told Politico. For reference, Pennsylvania requires poll watchers to be registered voters in the county in question, which might explain Brooks's assertion that election officials "did not allow us to see anything." Or it might not!
This article has been updated.