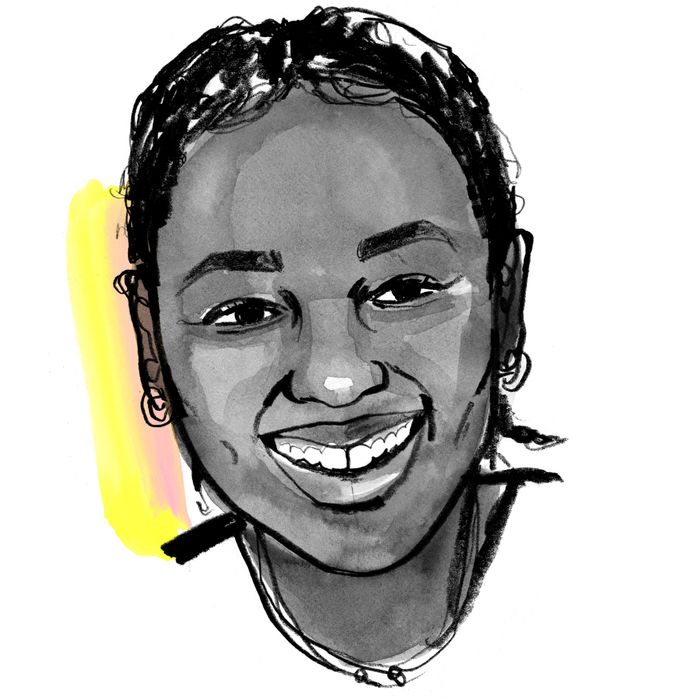 Illustration: Lauren Tamaki
If there's anyone in the world who has had a pretty good quarantine, it's 19-year-old comedian Elsa Majimbo. Over the summer, Majimbo attracted worldwide attention with her infectiously funny, pared-down Instagram monologues. Her hearty laugh, signature tiny sunglasses, and tendency to munch on potato chips in videos add screwball humor to her delightfully narcissistic commentary on life in lockdown. Before long, she had more than a million followers on the app (which she prefers to TikTok) and had been praised by everyone from Chrissy Teigen and Usain Bolt to Anderson Cooper and Steve Harvey. Now, she's working on projects with Fenty, MAC, and a new interview show on her Instagram called Bedtime With Elsa. Basking gloriously in her newfound fame, she's hoping to continue making people laugh in a future career as an actor, setting her sights on Los Angeles. She lives with her parents and two of her siblings in Nairobi, Kenya. Here's how she gets it done.
On balancing time zones: I wake up at 1 p.m. or 2 p.m. It's not because I oversleep. It's because right now I'm on L.A. time, because that's where most of my activity happens. The people I speak to are there. But I'm actually in Kenya, so I go to sleep at 6 a.m. and wake up at 1 p.m. I don't like breakfast. I usually wake up, shower, brush my teeth, and then wait until I feel hungry to eat. Then I make a video, maybe.
On making (or not making) her first video of the day: I usually make it around 4 or 5 p.m. That's when I usually feel like, Ohhhhh I should make a video. It happens on the spot. Literally, I hold my phone, look into the camera, and say what I'm thinking. If I can't think of anything, I'm like Okay, it's not that day. I take out my laptop, watch some Netflix, or go make some food. I accept it, and I move on. But usually I can make like 15 to 20 videos.
On dropping out of journalism school: When I got this opportunity, I just grabbed it. I may go back to school and do something, but not journalism and definitely not now. When I was in school, I would only go to classes and do assignments when I felt like it. So school felt like a choice. This is my life and my career. I'm definitely putting everything, all of my energy, everything I have, into it. So I'm definitely more busy. I'm definitely working way harder.
On her quick rise to fame: I'm just as shocked as everyone else is. I used to make my videos only for myself. I would watch them, laugh, and be like OMG. You are so funny! I love you! People picked up on it. It began with my friends, but then strangers started saying it and I was like, Ohhh, I really am funny. First the growth was in Africa, and then after that the U.K., and then it picked up in America. Now I'm doing more and more every day, and I'm so happy about it. Every single day I can't believe it. I wake up and I look at my phone and I'm like, Ugh, if this is a dream and it never happened and it was a coma, I'll be so mad. I think it's such a humbling experience, because this is a once-in-a-lifetime opportunity.
On self-confidence: I know 100 percent I'm a bad bitch. So I never really care about how other people see me. I only care about how I see me. And I see myself as such an amazing, beautiful person who has been able to accomplish so much. I'm never self-conscious or nervous. I'm usually like, OMG, yes, girl, yes. The thing is it's just me. It's literally just my personality. People are like, OMG, you're so funny. I'm like, that's literally me, every single day. That's me with my friends. That's me with my family. I feel like me just being me is funny, and people like that. I guess it's just me being myself. So it's not something that I can keep up with or try to alter or change. It's just who I am, naturally. I think it's so important to make myself happy in the process as well as making others happy.
On barely editing her videos: I don't like to do much editing. Doing things my way makes me feel like I'm being myself, and that's so important to me. I don't want to feel like I'm changing just because of the space, or I need to alter something just because people say so. It's kind of challenging to grow on Instagram. I like difficult things. So I thought that would be the funnest place to do my stuff. It's a hard, tough crowd that.
On her career goals: I'm going into acting, so that's my next step. I also definitely want to become a producer, a director — behind the scenes making great big things happen. Issa Rae is someone I really look up to. Her story, the way she started out, is kind of me right now, because she also started on the internet, doing her own thing with Awkward Black Girl. Now she's acting and has been able to make her own production company, and it's so amazing. And I'm on the internet trying to build myself and make my path in this industry and be on my own journey.
On being an "awkward Black girl" herself: I feel like men definitely have had more time and given more space to have that awkward boy vibe. They've always had that role. It's always been men. I feel like the only awkward Black girls that were allowed to exist were Moesha and Sister, Sister, Tia and Tamara. And that was back in the '90s. So this is a new opportunity to bring light to it in a new age.
On dealing with stress: I'm rarely stressed, but when I am, I usually go shower. That helps me release everything. It washes the stress away and makes everything seem so irrelevant. I shower, take care of myself, and be like, You deserve to be pampered. You deserve to be spoiled. 
On not putting her phone down: I think the only time I don't have my phone is when I'm asleep. My phone is always in my hand, because something might come up. I always need to be on my toes. I like keeping a very close eye on my calendar, even though I have a team who does most of that stuff. I like being diligent, and I'm fine with it. I like being on my phone.