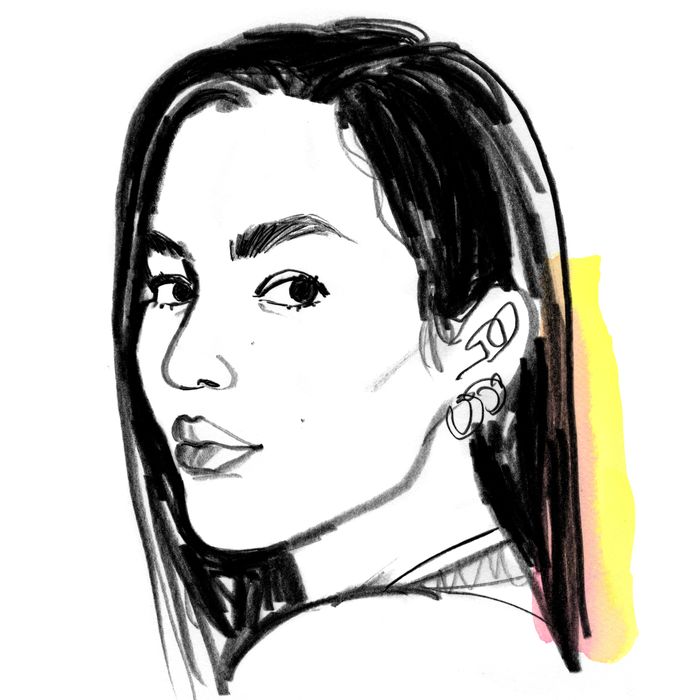 Illustration: Lauren Tamaki
Mia Kang is an international model, Muay Thai fighter, and body-positivity activist. She also recently added author to her résumé with Knockout, a memoir that explores her struggles with bullying, anorexia, bulimia, and body dysmorphia, and how she eventually redefined her sense of self-worth with the help of martial arts. Born and raised in Hong Kong, Kang started modeling at 13, and has since earned a master's degree in finance and financial law, worked as a commodities trader in London, and won both Sports Illustrated's 2016 Model Search as well as her first professional Muay Thai fight, and become the host of Bravo's Spy Games series. She calls New York home, but due to pandemic-related travel bans, Kang has been living in Thailand, on her own and 12 hours ahead of her usual time zone. Here's how she gets it done.
On her morning routine: 
I try to get up at 7 a.m. I try. The first thing I do is hit snooze at least once; on average, twice. I'm a snoozer. And then, it's terrible, but I check social and email, laying there, scrolling on my phone. I really want to change that, but it's what it is for the moment. Then I get up, brush my teeth, do my morning skin-care routine, and go to training. I'm currently doing a jiu jitsu program that's on a consistent schedule, and I'll do muay thai around that when I want. My typical sessions are two to three hours. Even though I'm a big morning coffee person, I tend to not drink or eat things before morning training due to time constraints, and because I don't want to throw up on anyone. The gym's an eight-minute car ride away, so I blast music and roll the windows down to get fresh air in my face to try to wake up; like a coffee substitute. I've been blasting "You Gotta Be" by Des'ree, which I recently re-discovered. That's my jam these days. I forgot about how good this song is, it's so motivating!
On her lockdown living situation: 
I'm currently in Phuket, an island in the south of Thailand. I actually came here in February for a last-minute vacation, because I knew that some sort of lockdown and travel ban was going to happen. I grew up in Hong Kong and we went through SARS, and had a whole no-leaving-the-house situation so I kind of saw it coming. But I ended up getting hospitalized in the isolation ward here with suspected COVID. It turned out to be bronchitis, but back then, tests were still being created, so by the time I got all my results, it had been eight days, and the borders of Thailand had closed. I rented a little house and set up shop here. The borders are still closed, but because they did it so early and so diligently — not only provincially but by districts, and neighborhoods too — we haven't had a case in over four months, and day to day life here is pretty "normal." But like many, I'm unable to work, see my friends and family; I'm not at home, I don't have all my stuff. I literally packed six bikinis and a sarong because I thought, I'm only going to be here for two weeks, it's fine! People are like Oh, you're in paradise, but we're actually in the monsoon season. It's been raining 23 hours a day.
On remote shoots: 
Everything for me is now digital and remote, so if I have to shoot something, I have to try and be my own photographer, stylist, and makeup artist, all in one. I love the makeup aspect, I feel totally confident doing my own. I started modeling when I was 13, so that's almost 18 years of getting my makeup done; you learn a lot that way. Hair on the other hand, is a mystery to me. Hairstylists do magic. I've only done one Zoom photoshoot so far. You send the photographer pictures and videos of the space so they can do virtual location scouting, then you get on a Zoom call and the photographer films it, and takes still shots from the video. They guide you where to put the laptop, how to adjust the lighting yourself. It's kind of amazing.
On the therapeutic powers of skin care and exercise: 
I suffer from anxiety, and this year, with all its uncertainties, it's really spiked. I don't remember the last time it was like this. I constantly have to check in with myself. I love to do skin care; it must be the Korean in me. I find it really self-soothing. It makes me focus on something really small and really precise, so my mind doesn't wander and spiral and think of all the stressors in life. I just hone in and think about eye cream. It's really therapeutic. At the beginning of 2020, I had a 3, maybe 4-step routine. Now I have eight steps for the a.m., seven for the p.m. I love using massaging tools too. The Foreo Luna 3; I've never achieved a level of clean like you do with that, there's no going back now. And that little gold T bar that vibrates. You can get them on Amazon for like $9. I feel like this year has been a skin-care year, because where am I going? I'm not really buying makeup, I'm sitting at home. I have all the time in the world to look at all my pores.
I also try to go to training every day to get that little accomplishment in. Martial arts are so much about brain power, more than physical power; it's like therapy. If I ever go into training with something bothering me or stressing me out, I will come off of the mat with a different perspective, because it rests your whole brain. It's also such a solitary thing; it's not like a football or basketball team where you have each other to hold accountable. You have to have this inner conversation with yourself a lot.
On social media:
I don't mind constructive criticism, where you can absorb it, have discussions, learn from it, and change your outlook. Then there are haters that are just trying to shit on everything you do. Certain people follow you, and only follow you to criticize you, and that? I block and delete. I love the block function, and the ability to curate my own space and screen in that way. Social media is such an unhealthy place as it is, I think we have to. Just because my page is public and I put myself out there, doesn't mean you're entitled to hurl whatever it is you want at me. I used to think, I have to post to please people, to keep people interested and entertained, but I've shifted to posting what I feel like, when I feel like it, especially this year. I've learned the hard way that social media can massively contribute to my anxiety on days when I'm super active and posting a lot. Very often on weekends, I just won't participate at all.