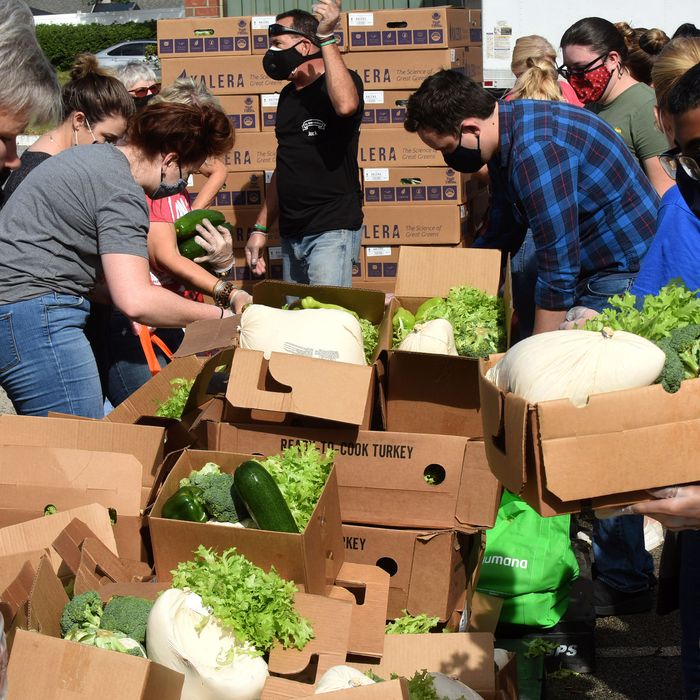 Photo: SOPA Images/SOPA Images/LightRocket via Getty Images
It's the day before Thanksgiving, the holiday typically associated with abundance, and millions of Americans are going hungry.
The country is on the brink of a downturn not seen since the Great Depression. The economic free fall from the coronavirus pandemic is projected to plunge 50 million people into food insecurity by the end of this year, according to new statistics from Feeding America. That includes 17 million children. And 40 percent of Americans report that, for the first time, they have struggled to afford something to eat. Experts say it is likely that there's more hunger in the United States today than at any point since 1998, which is when the Census Bureau began collecting food-insecurity data.
More than half of those experiencing food insecurity say that the expiration of federal assistance like stimulus payments and enhanced unemployment has made conditions even worse. 12 million more people will lose benefits on December 26. There is no new package of government assistance in sight.
Nowhere is this massive crisis more evident than at America's food banks, at which historic amounts of hungry people and their families showing up for free meals. While food banks typically see an increase in need over holidays, when those who can't afford a spread look for help to fill their tables, these organizations are reporting astronomical increases, across the country: The Greater L.A. Food Bank says demand this year is up 145 percent; Feed the Mass in Portland is feeding 1,000 people a day, up from 150 a weekend; in Rhode Island, one food bank doesn't think it can get through the holiday season without another assistance package from Congress.
The pandemic has made these bread lines more visible than they might have been otherwise, in lines of cars creating long, winding chains that snake through the streets. In New Jersey, some drivers waited more than five hours:
Staggering footage captured last week showed 6,000 cars in a food bank line in Dallas, clogging freeways for miles:
Congress has already adjourned for its Thanksgiving break. With no renewed government assistance in sight, at least through the end of the year, negotiations between the White House and Democrats have ground to a halt. What can we do, aside from screaming at the top of our lungs for the government to take care of us? Food banks will need all the help they can get.
Feeding America has a nationwide list of community food banks in your area, searchable by zip code. They'll be looking for cash donations, holiday food items, or volunteer time.
World Central Kitchen is accepting donations to feed over 30 million Americans as well as to employ out of work Americans in its kitchens.
Find a mutual-aid organization in your neighborhood that is getting meals to families, and figure out how to help.
Unfortunately, getting through Thanksgiving is just the beginning. "Everything is a disaster," Northwestern University economist Diane Whitmore Schanzenbach tells the Post. "I'm usually a pleasant person, but this is just crazy."