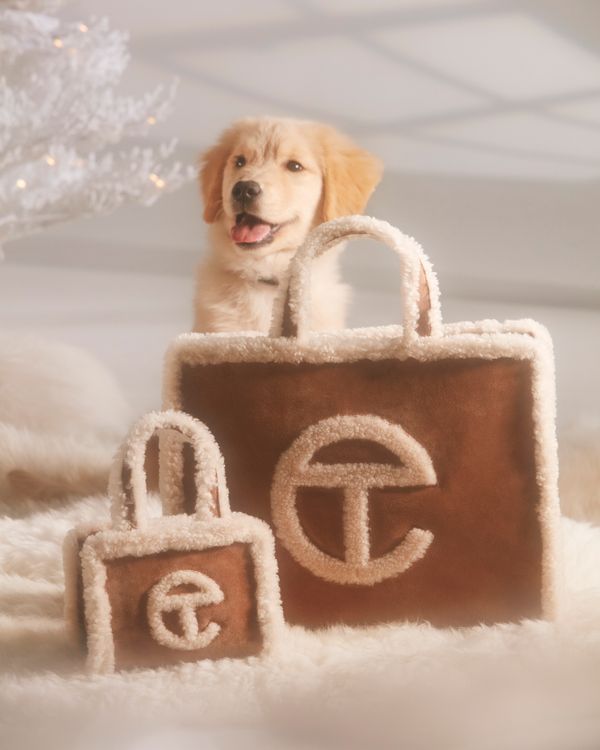 Photo: Courtesy of Roe Ethridge
In September, Telfar Clemens previewed an upcoming collaboration with UGG in an announcement video that felt like a warm, tender, shearling-coated hug. Apart from a launch date sometime in 2021, the details were scant — until today. For the first offering in the brand's partnership with UGG, Telfar is giving its perpetually sold-out shopping bags a fuzzy upgrade.
Alas, there's some good news and some bad news. The good news is the bags are available for preorder on Telfar's online shop during a 24-hour presale event on Monday, November 30, beginning at 9 a.m. ET. The bad news is there's a set number of bags. So set your alarms now, since there's no Bag Security Program to take orders before they go into production.
The adorable puppy in the image above is not, in fact, included, but the preorder will include a Christmas card set to arrive before Christmas Eve. A seductively posed Clemens (as shown below) may be just what you need to get into the holiday spirit. The bag — available in both small and medium sizes in classic UGG chestnut suede with creamy shearling accents — is guaranteed to arrive between March and Juneteenth 2021.
"We know that is a long time to wait — but these bags are insanely adorable and will sell out in minutes," Telfar wrote on Instagram. "PRE-ORDER now and your bag is SECURED."